If you're heading to Rarotonga, then there's at least one other island within the Cook Islands' archipelago that you shouldn't miss – Aitutaki.
This gorgeous, little paradise takes the beauty of Rarotonga and turns it up with the clearest, turquoise waters you've ever seen, abundant reefs and stunning, white sand beaches.
However, the allure of Aitutaki emanates from the resorts on the island. While few in number, the accommodation on Aitutaki whisks you away from any signs of civilization, with many offering private, overwater bungalows, on-site restaurants, and everything else you could possibly need for an unforgettable escape.
There's only a handful of Aitutaki resorts to choose from, but as it's where you'll be spending most of your time you're going to want to get it right! Read on to find out our top choices – pick any of these and you'll have an amazing experience.
Aitutaki Resorts
5 Star & Luxury Accommodation Aitutaki
If you want the perfect holiday, or you just have cash to throw around, then picking one of the best luxury resorts on Aitutaki is a must-do.
Each of these resorts offer 5-star accommodation in Aitutaki and are amongst the best in the Cook Islands – there's absolutely no wrong choice here. They're all truly magical.
We've also written a guide on the best luxury accommodation in Rarotonga that you shouldn't miss.
1. Aitutaki Escape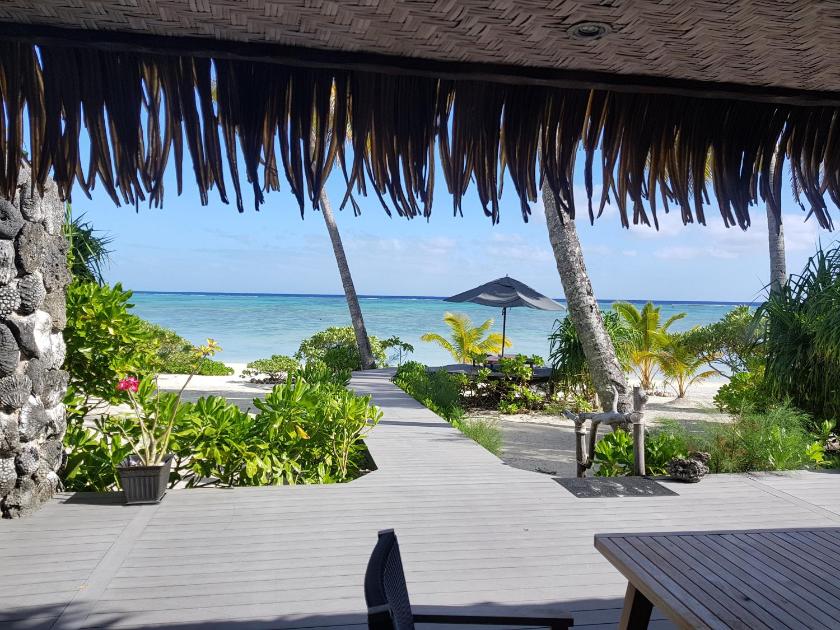 If you're looking for the most impressive and luxurious resort in Aitutaki, then you can stop looking because Aitutaki Escape is the ultimate place for you.
The villas epitomise luxury, with an ingenious design, beautiful furnishings, and every detail you can think of provided. However, its location is what makes Aitutaki Escape so special.
With the beachfront villas situated right by the water, they offer gorgeous views and everything you could dream of.
On top of all this, the service from the staff is impeccable and the breakfasts each morning are lovely. It's easy to see why this resort is one of the best on Aitutaki.
2. Etu Moana Boutique Beach Villas
Etu Moana Beach Villas is a wonderful, boutique Aitutaki hotel located right on the beach overlooking the iridescent, blue lagoon and its crystal clear waters.
The property is run impeccably with the staff going above and beyond for guests, nothing is ever too much if it means they can make your trip memorable.
We particularly love the rustic wood furnishings that managed to exceptionally combine luxury with the traditional, laid-back vibe of the Cook Islands.
Being a smaller, boutique resort makes Etu Moana perfect for anyone looking for a quiet and relaxing getaway.
3. Pacific Resort Aitutaki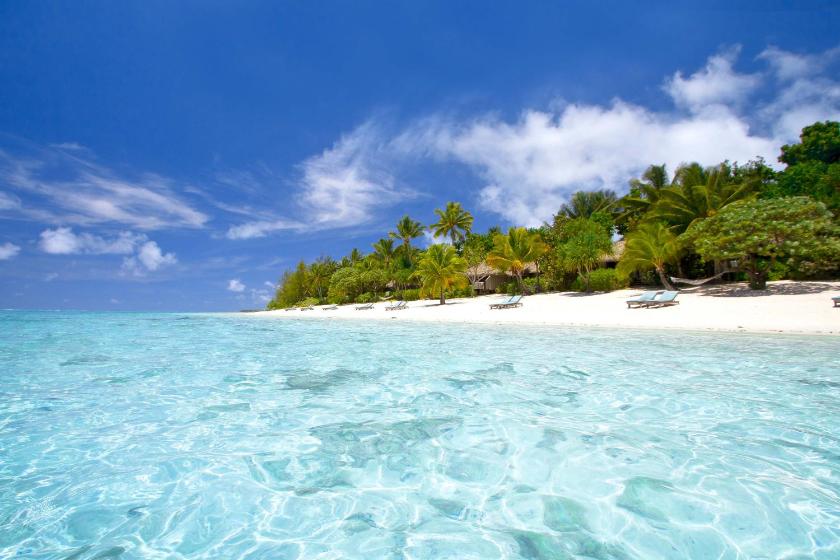 Pacific Resort Aitutaki undeniably claims to be a 'calm and tranquil oasis' and we think it sums up their Aitutaki resort perfectly.
The Pacific Resort Hotel group own some of our favourite Rarotonga resorts including Te Manava Luxury Villas and Pacific Resort Rarotonga. Naturally, Pacific Resort Aitutaki holds up to their same standards.
The villas are located right up against the beach and the lagoon with stunning views. Despite the beach being so close to your room, you'll also be tempted to spend your days lounging around the beautiful pool near the bar.
The rooms themselves are immaculate with modern bathrooms and a traditional design.
A stay at Pacific Resort Aitutaki is a great pick.
4. Aitutaki Lagoon Private Island Resort
Aitutaki Lagoon Private Island Resort is a wonderful place to stay in Aitutaki. The staff are friendly and helpful. It's near the beach and lagoon, which is great for relaxing by cool water.
Aitutaki Lagoon Private Island Resort is quiet but well-appointed with helpful staff who try their best to make your stay great. They make sure you have everything you need while there so you can enjoy your time in Aitutaki
The food at Kuriri Bar & Grill at Aitutaki Lagoon Private Island Resort is delicious! The staff can even organise a special dining experience.
The lagoon snorkel and cruise organized by the resort will be a highlight. If you're looking for a place to stay in Aitutaki that offers everything you could want, then look no further than Aitutaki Lagoon Private Island Resort.
Mid-range Hotels in Aitutaki
The mid-range accommodation in Aitutaki can still be on the pricier side – this is the cost of staying on a remote island in the middle of the South Pacific! An easily justifiable expense in our opinions.
Compared to the luxury picks above, you may need to forego the modern rooms and overwater bungalows. But you'll still get top-notch service and a stunning beachfront location.
5. Aitutaki Village Resort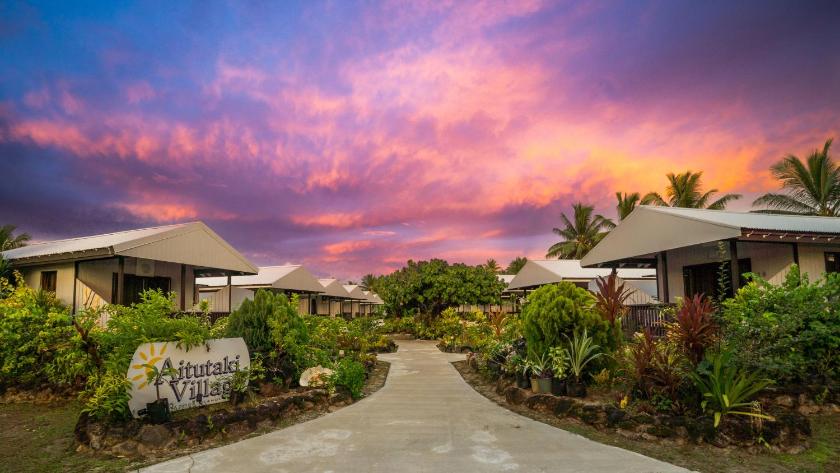 The small Aitutaki Village Resort is an absolute gem on Aitutaki. Being small, it's the perfect accommodation to pick if you're keen to escape the busy hustle of larger resorts.
The villas at the resort are all stand-alone, spacious and well-equipped with everything you need, including a refrigerator.
The resort is also located right by the beach, so despite being a bit more affordable than the luxury picks above you won't need to forego a beachfront location, though your rooms may not overlook the water.
6. Tamanu Beach Bungalows
The Tamanu Beach Bungalows Resort is a great place to stay in Aitutaki. Located right on the beach next to the impressive Etu Moana Resort we recommended earlier, you know this is a 5-star location.
You can also choose from villas or bungalows boasting either garden or beach views, both at more affordable price points than our luxury picks.
Tamanu Beach Resort is our top Aitutaki Accommodation for price and value. Sure, it's not cheap, but you get so much for the money that we think it justifies itself within an already relatively expensive market.
7. Tai Marino Beach Bungalows
Tai Marino Beach Bungalows are the perfect place to stay to escape the world. You'll quickly forget about work and everything back home as you relax on the beach watching the sunset.
The location and atmosphere are very relaxing with great views of the water and easy access to kayaks. The bungalows have everything you need while on vacation, including breakfast and dinner if requested. Or you can visit Local Grind next door for a bite to eat.
The staff are extremely friendly and helpful, happy to provide recommendations and even a private tour around the lagoon.
8. Tavake Villa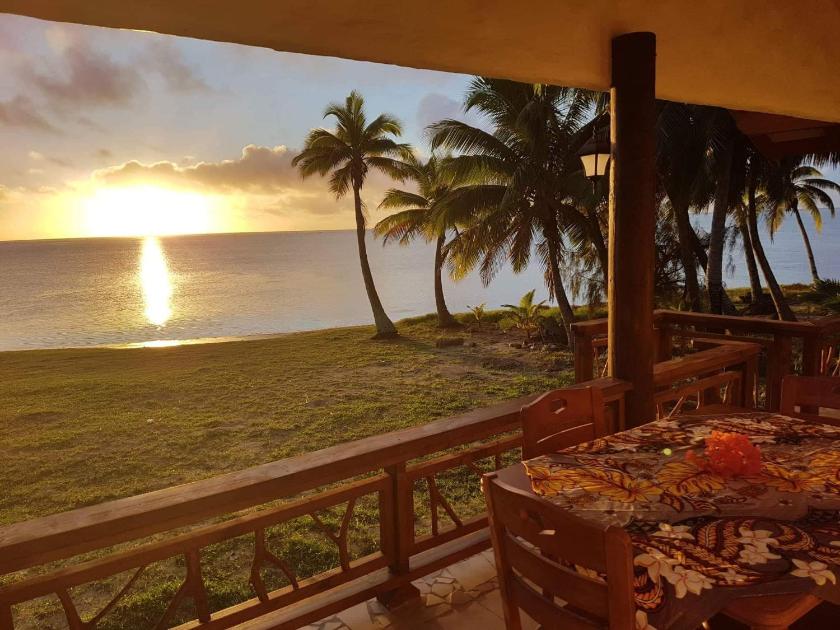 Located right on the water, Tavake Villa is an epic beachfront pick what won't cost a fortune. At least by Aitutaki resort standards.
The villa has everything you need, although they do tend to be more on the basic side design-wise in Aitutaki – something which is all too common in mid-range Rarotonga accommodation so keep your expectations in check.
At this price point, Tavake Villa is an incredible option with gorgeous views. It's perfect for a relaxing beach holiday. We'd recommend it for couples and small families.
9. Aitutaki Seaside Resort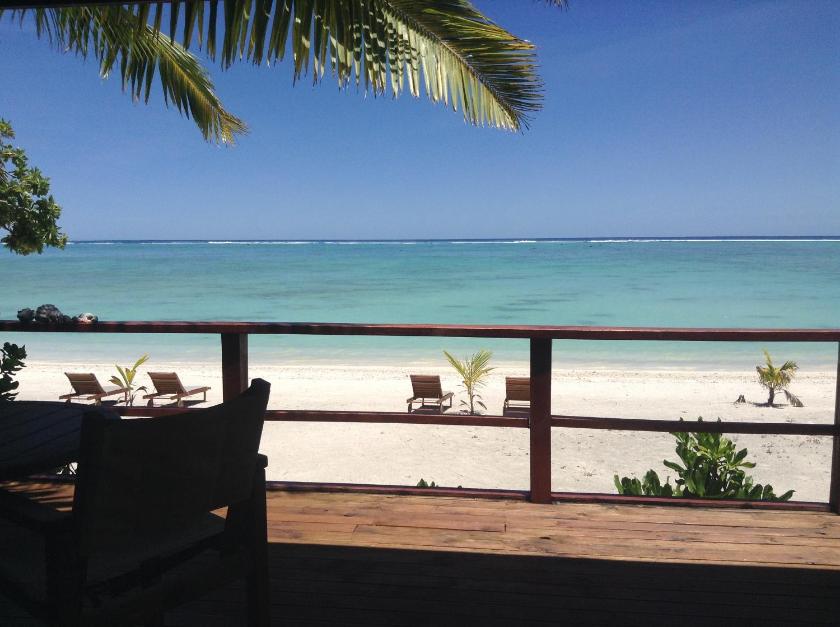 Aitutaki Seaside Resort is a beautiful place to stay in Aitutaki with great views and excellent snorkelling just outside the property.
It is a quiet and peaceful spot (as is pretty much everywhere on Aitutaki) that is perfect for a relaxing vacation.
The owners are friendly and accommodating and the service is amazing.
The accommodation is priced competitively for what it offers. Bear in mind you will want to bring your own food to cook or visit a nearby restaurant or resort for food.
Cheap Aitutaki Accommodation
Well, no one has ever said Aitutaki is cheap – but if you can shell out the cost of the flights to the island, we reckon it's worth staying at least a night or two, even if it means picking one of these cheaper accommodation options.
You might not be instagramming your rooms if you stay here, but they're clean and tidy making them perfect for backpackers or travellers on a budget. You won't be short of instagrammable locations once you walk outside!
10. Aitutaki Budget Accommodation
Aitutaki Budget Accommodation is incredible value for money and is our top pick for budget accommodation in Aitutaki. Nothing here is cheap, but this is as close as it gets for budget-friendly options.
This well cared for accommodation offers a comfortable, clean place to stay with close access to shops. The rooms are cleaned daily and guests find the beds notably comfortable – a huge plus in our opinion.
The owners are lovely and attentive, willing to help you with anything you need. Aitutaki Budget Accommodation makes you feel like part of the family from the moment you set foot on their island paradise.
11. Paradise Cove Lodge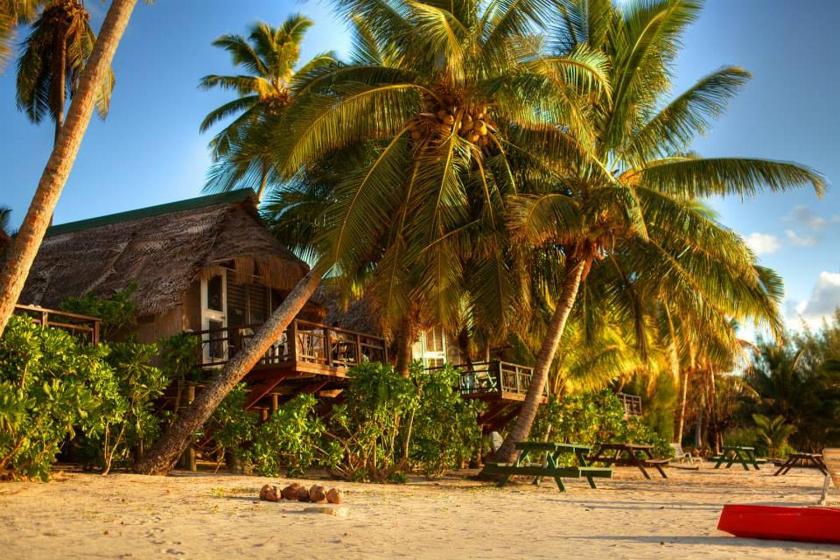 With bungalows as close to the lagoon as you could possibly get, and offering great views out to sea, Paradise Cove Lodge is an absolute gem. You truly get so much for your money it's unreal.
In typical Cook Islands fashion, the bungalows are due a refresh but despite this they are super comfortable and, of course, clean.
During whale season you can spot whales from your balcony. However, for snorkelling we recommend getting out and exploring the island a little more. There is a great spot for swimming but there are better snorkelling spots elsewhere on Aitutaki.
Rarotonga Accommodation
As amazing as Aitutaki is, you're no doubt going to visit Rarotonga as well and we reckon it would be a mistake not to spend at least a couple of nights here too! There are plenty of awesome Rarotonga hotels and resorts and as such we've made sure to also put together a list of the best Rarotonga accommodation available.
In terms of where to stay in Rarotonga, we recommend picking a place along the south or west coasts of the island, with our top picks being Te Manava on the luxury end and Castaway Resort for mid-range accommodation.
If you're considering other destinations, we'd also highly recommend Bora Bora in French Polynesia. We've written a similar guide to the best Bora Bora resorts and some of these are at another level to what you can find in the rest of the South Pacific!
Things to Do in Rarotonga
Where Aitutaki is quite small, secluded and offers limited activities, there are heaps of awesome things to do in Rarotonga. The best Rarotonga attractions include hiking up to the top of the Needle, Raro Buggy Tours and lagoon cruises.
Naturally, our favourite activities in Rarotonga revolve around the water and we'd recommend spending most of your time snorkelling, sipping cocktails and lounging on the beach.
*Support a couple of Kiwis! Booking through the links on this page (like the one above) helps us pay the bills, at no extra cost or inconvenience to you. You can even bookmark the link for later!