If you're looking for the ultimate luxury escape then look no further than the paradisiacal island of Rarotonga.
Expect to spend your days lounging on white sand beaches, sipping cocktails at beachfront bars and snorkelling amongst some of the most colourful marine life in the world.
We've travelled extensively around Rarotonga and we know choosing the perfect accommodation is difficult. These 5 star Rarotonga resorts offer unparalleled luxury that we believe epitomise the raw, untouched beauty of the Cook Islands.
From adults only escapes with private plunge pools to family-friendly resorts that will whisk the kids away while you relax, we'll make sure you experience best-in-class luxury accommodation right here in Rarotonga.
Luxury Accommodation Rarotonga
Perhaps not quite at the standards you'd expect from the resorts in Bora Bora or the Maldives, Rarotonga has a small collection of luxury resorts which offer the best of Cook Islands hospitality.
1. Te Manava Luxury Villas & Spa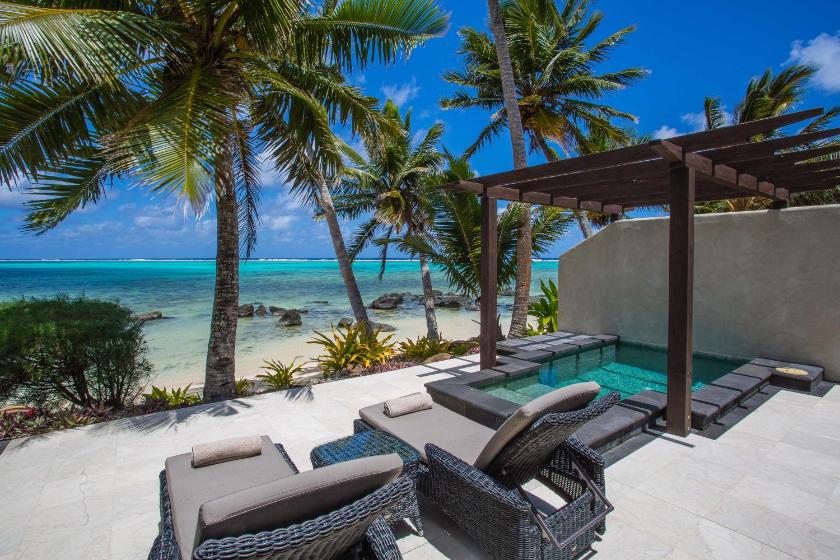 Te Manava, arguably the best resort in Rarotonga, offers a lavishly, luxurious experience that cannot be replicated.
Te Manava Luxury Villas is one of our favourite 5 star Rarotonga resorts. This stunning resort offers a lavishly, luxurious getaway that few other places in Rarotonga can rival.
The villas here are dotted along the beachfront with generous spacing, walls and native vegetation to create privacy for you as you enjoy your own space.
Whilst secluded away you'll be able to enjoy your own fenced-in plunge pools surrounded by tropical gardens.
All the villas at Te Manava are exquisite, however, the beachfront villas are worth splurging on – especially if it's a special occasion. There's something magical about waking up to views out to the lagoon. Even better, you can enjoy these views both from your indoor living area and the outdoor one.
Of course, the service and amenities here are exactly what you would come to expect from any 5 star resort – expect room service, access to babysitters, spa packages and gourmet dining.
Private swimming pool
Walking distance to great snorkelling beaches
Picturesque lagoon views from living areas
Babysitting, spa and beauty services
Location: Muri Beach
2. Rumours Luxury Resort Rarotonga
Rumours Luxury Resort is an award winning 5 star resort located towards the southern end of Muri near Titikaveka – our favourite beach on the entire island!
The rooms are spacious with two rooms each and more than enough space for two couples or a family – meaning they're very generously proportioned for an individual couple.
The interior design at Rumours is impeccable and of a world-class standard that belies the humble origins of Rarotonga, whilst still maintaining enough of the Cook Islands charm to ensure you don't forget where you are.
Guests are also fortunate enough to arrive to a complementary bottle of bubbles and a gift basket. On top of this, all the amenities typical of luxury resorts can be expected such as room service, gourmet chef-prepared meals and spa services.
Lastly, I don't want to forget to mention the breathtaking views over the beach backdropped by the beautiful lagoon. This view alone makes spending extra for the beachfront villas very much worth it. If money is no object, then make Rumours your pick – it's everything you want your holiday to be.
Air conditioned
Plenty of privacy
Huge two room apartments
Absolutely perfect location
Complementary bubbles and snack basket
Location: Titikaveka Beach, Muri
3. Nautilus Resort Rarotonga
Nautilus Resort is renowned as Rarotonga's most luxurious resort. It is definitely worthy of this title.
Look no further than Nautilus Resort for the best luxury accommodation in Rarotonga. The resort has earned renown for being the epitome of class and luxury in Rarotonga and we think it's well earned.
Located on Muri Beach, Nautilus is in a convenient spot with access to a handful of restaurants and shops as well as arguably the best beach on the island. There is a large outdoor infinity pool right on the beach with views out to the Muri Lagoon which is perfect for relaxing when you don't feel like being on the beach itself.
The rooms offer generous privacy with a spacious open plan design – no need to worry about feeling claustrophobic like you can in many other high-end hotel rooms.
Within the space you get a great indoor-outdoor flow that runs from your beautiful villa out to your own private outdoor area complete with private pool and outdoor shower – your own tropical oasis right in the heart of Muri.
The beachfront rooms are amazing if you're looking to see the motus in Muri Lagoon from your room, however, the garden rooms offer a little extra privacy from the beach.
Private plunge pool and outdoor shower
Spacious villas
Lavish ambiance
Infinity pool
Location: Muri, Ngatangiia
4. Sea Change Villas
As you would expect from one of the most gorgeous, luxury resorts in Rarotonga, Sea Change Villas offer large, modern beachfront apartments.
It's all too common for Rarotonga Resorts to feel a bit dated. Don't get me wrong, we can appreciate the 80s/90s aesthetic they seem to be going for, but sometimes you really want your accommodation to be little more modern.
This is what really sets Sea Change Villas apart from the others. They are really a set of large, modern beachfront apartments overlooking our favourite beach, Titikaveka – perfection already, right?
As you should expect, each apartment offers your own private indoor and outdoor areas with complete privacy from the other suites. They all boast commanding lagoon views from the beachfront. Plus they all come equipped with their own private pools!
We particularly loved the location of Sea Change Villas. Muri Lagoon is the quintessential tourist destination in Rarotonga and it's an amazing beach, but Titikaveka has the perfect balance of seclusion, great marine life and proximity to Muri – it's still just a quick drive.
It doesn't get much better than Sea Change Villas.
Private pool offering lagoon views
Large rooms with modern (by Rarotonga standards) furnishings
Located on one of the best beaches on the island, if not the world
Location: Titikaveka Beach
5. Little Polynesian Resort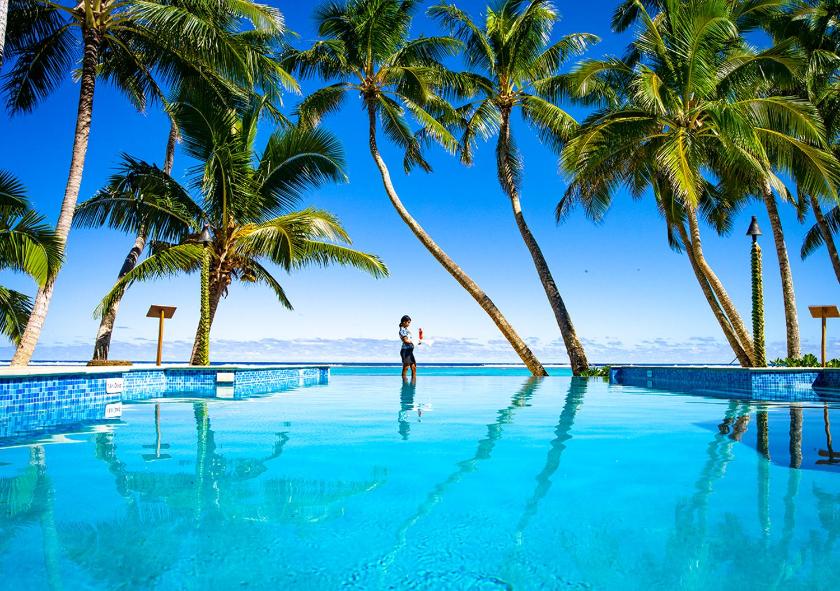 Unsurprisingly, this stunning little resort offers an opulent experience with everything you desire, from a seriously cool infinity pool to lagoon views and cocktails.
The rooms here are nice, modern and generously sized and we particularly love the small size of the resort which helps to give it a more humble, cosy atmosphere. It's really the sum of the little things here at Little Polynesian Resort, like how the staff remember your name and their constant attentiveness.
For a small, boutique resort, Little Polynesian punches well above its weight and is undoubtedly deserving of a spot amongst the best luxury accommodation in Rarotonga.
Modern rooms
Infinity pool
Friendly staff and really helpful service
Great beach views
Location: Titikaveka Beach
6. Pacific Resort Rarotonga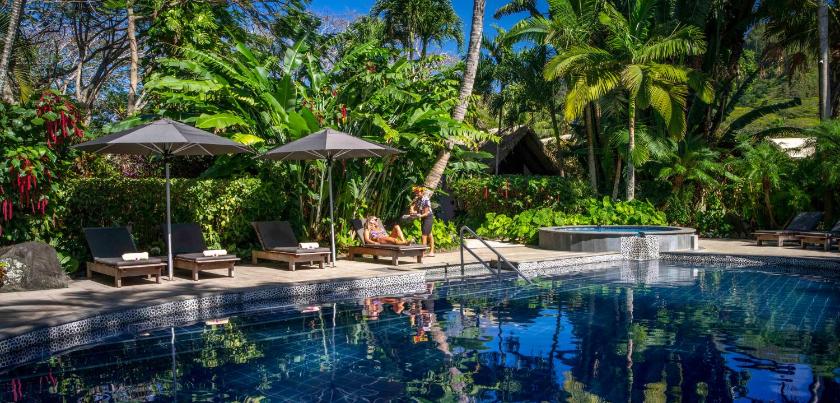 Located in the perfect location at Muri beach, Pacific Resort is amongst the best accommodations at Muri Beach.
Located on the gorgeous Muri Beach, Pacific Resort Rarotonga is conveniently in one of the best spots on Rarotonga. Although the snorkelling is better further south, the beach is one of the most picturesque on the island and the most popular area to stay for tourists.
Price-wise, Pacific Resort is just slightly more affordable than the other options on this list. It's still one of the best options for luxury accommodation Rarotonga, but we'll admit it's a tier below the rest.
With that said, it's one of our favourite resorts in Rarotonga for families thanks to it's huge outdoor swimming pool, babysitting services and kids club, so we felt it absolutely had to make its way onto this list!
Even if you're not visiting with kids, Pacific Resort is also a great way to get most of the amenities of the best luxury resorts in Rarotonga whilst still having some spending money leftover! The resort is amazing and is located right on one of the best beaches.
It's a popular spot for honeymooners and couples looking for a romantic getaway with it's beautiful beachfront (perfect for wedding ceremonies), enticing restaurant and relaxing spa services.
Babysitting and kids club
Spa services
Beachfront dining and sun loungers
Outdoor swimming pool
Muri Beach location
Convenient room service
Location: Muri, Ngatangiia
*Support a couple of Kiwis! Booking through the links on this page (like the one above) helps us pay the bills, at no extra cost or inconvenience to you. You can even bookmark the link for later!
Luxury Accommodation Aitutaki
Aitutaki is unquestionably the most stunning island in the Cook Islands. When you arrive you'll immediately draw parallels to Rarotonga, but everything is a little bit more pristine, a little more glistening and a lot more secluded.
Aitutaki resorts are limited in number so you won't have a lot to choose from. As such it's a good idea to choose your Aitutaki accommodation wisely and to book early to avoid missing out.
All the resorts on the island tend to be reasonably expensive and none are necessarily bad options, but there's a couple that stand out above the rest as the best luxury accommodation options: Aitutaki Lagoon Private Island Resort and Pacific Resort Aitutaki.
7. Aitutaki Lagoon Private Island Adults Only Resort
Aitutaki Lagoon Private Island Resort is the only adults only resort on the island making it the perfect place to stay for a couple escape or honeymoon in the Cook Islands.
The resort itself is essentially located on its own private island (crazy, right?), however, it's still basically part of Aitutaki.
The resort is quiet and well-appointed with friendly and helpful staff who are there to make your stay absolutely perfect. The on-site restaurant, Kuriri Bar & Grill, has delicious food. Which is convenient considering you'll probably eat every meal here – after all, why would you want to leave your private island?
If all this isn't enough, then the real highlight of Aitutaki Lagoon Private Island Resort are the breathtaking, picture-perfect overwater bungalows. These are the best overwater bungalows in Rarotonga or Aitutaki and are a unique experience that are well worth the extra money. That said, the views from the beachfront bungalows are pretty close, you just forego being able to off your balcony into the water.
Adults-only resort
Obvious highlight – it's on it's own private island
Unbelievable views
Overwater bungalows
Location: Muri Beach
8. Pacific Resort Aitutaki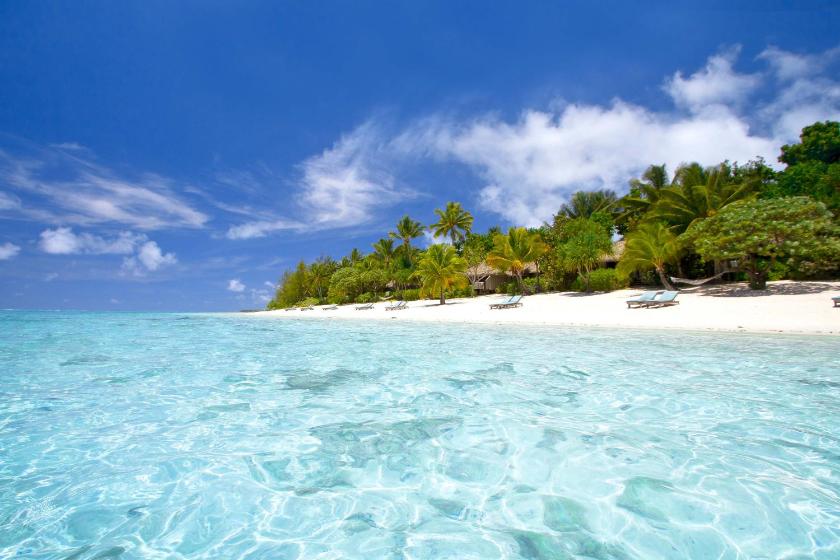 Pacific Resort Aitutaki, arguably the best resort in Rarotonga, offers a lavishly, luxurious experience that cannot be replicated.
Pacific Resort Aitutaki claims to be a 'calm and tranquil oasis' and, well, we reckon that sounds about right.
The Pacific Resort Hotel Group own a handful of the best luxury resorts in Rarotonga including Te Manava Luxury Villas and Pacific Resort Rarotonga – both of which have made it onto this list!
The beachfront villas at Pacific Resort Aitutaki are located right up against the private beach with stunning views over the lagoon. It's just a quick skip to the water at any moment.
The rooms are immaculate with a traditional design and modern bathrooms. You will undoubtedly wish to jump into the ocean all the time, but there is also a stunning pool at the resort that is worthy of at least some of your attention.
The staff are experts at hospitality and they'll ensure everything from the moment you arrive to the second you regrettably leave is absolute perfection.
Private beach
Picturesque lagoon views
Best-in-class hotel service
Beachfront villas
Location: Muri Beach