Rarotonga is a great pick for the ultimate family getaway or couple's escape. Offering white sand beaches as far as the eye can see, an array of colourful marine life, and rich Pacific culture.
Thanks to the Rarotonga travel bubble, kiwis now get to choose between the Cook Islands or Australia – and we think the choice is easy! Plus, flights to Rarotonga are short and relatively affordable for anyone.
With the Cook Islands' large increase in tourism in recent years (prior to COVID-19), many new Rarotonga resorts, hotels, and self-contained beach bungalows have been made available. With accommodation in Rarotonga, you're absolutely spoilt for choice!
Choosing the right hotel can seem a little daunting so we're here to help! The following guide will give you everything you need to know to pick the perfect Rarotonga Resort.
Don't forget to check out our epic Rarotonga travel guide. Find out how to easily get around the island, where to eat, and all the best things to do in Rarotonga.
Where to Stay in Rarotonga
As relaxing and calm as Rarotonga is, it can be hard to choose the right area and the best Rarotonga accommodation.
We've outlined the best areas on the island and which kind of traveller they're best suited for.
Avarua: Best Place to Stay for Budget Travellers, Foodies and Nightlife
Avarua Town is the capital of the Cook Islands. This is the major hub of Rarotonga which makes it a great place to stay. You'll find everything here – numerous restaurants, bars and cafes, souvenir shops as well as Black Rock Beach close by in the northwest of the island.
For backpackers and budget travellers, there is a lot located here including the Sunday morning market. The distance around Avarua is walkable so you'll save money not having to take the bus everywhere.
For foodies, all the major restaurants and cafes are located here. A crowd favourite is Trader Joe's. Try their deep fried seafood, chips and a cold beer for lunch.
For night owls and party-goers, Avarua is where it's at for nightlife. Bars and nightclubs are located here, so if you're staying in this area it's a short walk home.
Find great deals at Hula bar. They do $4 NZD drinks and have a restaurant attached if you get peckish. One morning it was pouring with rain and since many of Rarotonga's activities and attractions are outdoors, we were stuck with what to do. We headed to Hula Bar for a few drinks and some lunch which bought us time for the downpour to pass.
Visiting Cook's Fudge Factory is an absolute must-do for all sweet-tooths out there. The rich and creamy fudge flavours are to die for. They're also a great option to take home for friends and family.
Muri: Best Place to Stay in Rarotonga for Families and Adventure Seekers
Muri is the perfect place for beach lovers and adventure seekers. Relax on the beach, take a dip, or take part in the many water sports Muri has on offer.
The abundance of things to do and see at Muri also makes it the best location for families. Not to mention, swimming, snorkelling and making sandcastles at the beach will keep the kids entertained for hours while parents can get some well-deserved relaxation in.
Due to the sought-after location, accommodation tends to be on the pricier side of things. Because of this, we'd recommend looking elsewhere if you're a budget traveller. Muri does get very busy, so those wanting a relaxing holiday with as little crowds as possible may also want to consider other parts of the island.
Many of the full day tours leave Muri so you've got the perfect spot. We chose a day trip with Captain Tama's. This was our favourite day on the island. An activity-filled day included snorkelling, swimming, tonnes of entertainment and a huge island feast.
Since we were brought out to a marine reserve for snorkelling, we were able to see many more varieties of fish. This was the best snorkelling experience we had on Rarotonga – coming from two people who snorkelled everyday on our nine day trip.
Titikaveka and Aro'a: Best Place to Stay for Couples or For Peace and Quiet
Titikaveka and Aro'a are the most beautiful beaches on the main island. Even better, they're less busy than Muri so you can fully relax without feeling surrounded by tourists.
This is in our opinion the best place to stay on the whole island. We love relaxing and snorkelling on a beach without being bothered by crowds – this really adds to the island feel.
Snorkelling is amongst the best things to do in Rarotonga, and both locations are marine reserves (Tikioki Marine Reserve and Aro'a Marine Reserve), so snorkelling here is amazing to say the least. Even at knee-deep waters you'll see fish darting around you.
There are many resorts around the area so you won't have to go far for a good meal and a drink. Our recommendations for the area include Vaima Restaurant. Sit on the beach and enjoy a beautifully-cooked dinner. Shipwreck Bar is also a great place to visit. On the outskirts of Aro'a at southwestern part of the island, enjoy beachside cocktails and great pub-style food and nibbles.
Arorangi: Best Place to Stay to Catch Amazing Sunsets
The sun sets on the west side of the island, making Arorangi the place to be during golden hour. Photographers, this is a great place for you.
This is actually the place we decided to stay when we visited Rarotonga. We like to go out in the morning and spend the whole day out doing various activities. After adventuring during the day, Arorangi is where we liked to spend most of our evenings to see the sunset.
We'd recommend grabbing a beverage at happy hour (3pm or 4pm til 6pm for many bars) then photographing the sunset by the beach. Head into one of the many beachside restaurants for dinner.
The only thing is the beaches around Arorangi are rocky so it isn't recommended to swim here. This wasn't at all a problem for us as we preferred to spend our days out and our evenings here. This may not be the place for you if you're looking to spend your days at your resort and swimming at the beach.
Rarotonga Luxury Resorts
Staying in Rarotonga with a baller budget? Looking to experience the best the Cook Islands have to offer, sparing no expense? These are the absolute top resorts in Rarotonga. Pick any of these and you're guaranteed a magical, relaxing and luxurious experience.
1. Te Manava Luxury Villas & Spa
Te Manava, arguably the best Rarotonga resort, presents luxury like you've never seen before. Their presidential beachfront villa is truly spectacular. This 5 star resort offers a private pool in each villa, babysitting services, and spa and beauty services. Head to the resort restaurant for a gourmet selection.
Conveniently located at the best snorkelling spot in the Cook Islands, this is a great place to stay if you've got snorkelling on the agenda. Tikioki beach is also one of our favourite beaches on the island.
Resort Highlights
Private pool
Best location for snorkelling
Spa and beauty services
Location: Ara Tapu, Ngatangiia
Star Rating: 5 stars
Average Rating: 9.2
2. Pacific Resort Rarotonga
Also located in a prime location at Muri beach, Pacific Resort is the best Muri Beach Rarotonga accommodation and shouldn't be missed. As well as offering babysitting services and a kids club, there's a large swimming pool surrounded by lush green palm trees. The surrounding greenery gives the resort a private feel, especially being right on the most popular beach in Rarotonga.
Treat yourself to a massage or other spa services or visit their restaurant for some enticing dining options.
Pacific Resort has a beautiful beachfront area teeming with palm trees reserved for wedding ceremonies. Check this place out if you're interested in an island wedding.
Resort Highlights
Babysitting and kids club
Spa services
Beachfront dining
Location: Muri, Ngatangiia
Star Rating: 4 stars
Average Rating: 8.8
3. Nautilus Resort Rarotonga
Nautilus Resort is renowned as Rarotonga's most luxurious resort. It is definitely worthy of this title.
Nautilus offers privacy without feeling claustrophobic. Spacious open plan villas seamlessly create indoor-outdoor flow. Step out to your private pool and outdoor shower.
For complete privacy, garden are's are the best choice. Choosing a beachfront are' will give you a view of the motu (islets) of Muri's lagoon.
There's a great view of Muri Beach right from the main pool where you can lounge and relax. Of course you'll find a luxurious day spa if you're looking to pamper yourself, and they also do wedding packages. I could not imagine a more perfect place in Rarotonga for a wedding, honeymoon or elopement. Nautilus is definitely the way to go.
Rarotonga's most enjoyed beach is at your doorstep. Take your pick from the many water sports in Muri. This includes paddleboarding, kayaking, snorkelling and more.
If you've worked up an appetite, there is an array of beachfront bars, restaurants and cafes to choose from.
Resort Highlights
Private plunge pool and outdoor shower
Spacious villas
Lavish ambiance
Location: Muri, Ngatangiia
Star Rating: 4.5 stars
Average Rating: 9.0
Mid-range Resorts in Rarotonga
Not everyone can afford to live a life packed full of luxury. These mid-range resorts will suit most people, with a touch of luxury sprinkled in from time to time.
They're all conveniently located and offer everything you'd expect from a resort in the Cook Islands.
4. The Rarotongan Beach Resort and Lagoonarium
The Rarotongan Beach Resort is the best resort in Rarotonga for families. Not only are prices reasonable, but this resort also boasts an array of activities for children of all ages – and not to worry, they haven't forgotten about the parents either.
They've covered all bases and since the Rarotongan has been around for many years, it holds that real resort feel. Staff are incredibly friendly and go out of their way to make your stay enjoyable.
Perhaps their biggest advantage is the programs available for children. Moko's Kids Club has cultural activities, movies, and craft sessions. To make things even better, there are 3 sessions daily so you're bound to find a time to suit you and have some alone time.
There's also a Banana Beach Playland Creche for the youngsters and a Teen Zone. There are so many great activities including scuba diving lessons, dodgeball, dancing lessons, and an air hockey competition to name a few.
They even have a pool with a waterslide, playground, games room, and tennis court.
The Rarotongan is located on Aro'a beach which is a great snorkelling spot – this will keep the kids occupied for hours. The great thing is you don't have to go out far to see fish. This makes it great for the young ones and those not confident in the water.
If you aren't travelling with kids, The Rarotongan is still a good option for accommodation in Rarotonga, but be prepared to be surrounded by families. Consider checking out Sanctuary Rarotonga which is attached to The Rarotongan with the same owners. It is one of the most popular adults only accommodation in Rarotonga.
Resort Highlights
Creche, kids club, and teen club available
Pools, playground, games room, and tennis court
Large range of rooms available
Amazing snorkelling
Location: Aro'a Beach, Arorangi
Star Rating: 4 stars
Average Rating: 7.5
5. Muri Beach Resort
Muri Beach Resort is a great place to stay when holidaying in the Cook Islands. Many tours operate in Muri, including night time paddle boarding, snorkelling, and kayak tours. There are plenty of bars, souvenir shops, and places to eat. The night market in Muri also runs daily from 5pm. All of this is within a few minutes walk from Muri Beach Resort.
Wicker furniture, floral bedding, and woven flax bedhead add to the relaxing island atmosphere. Grab a cocktail by the poolside and enjoy your holiday!
Resort Highlights
Muri beach location
Babysitting services
Island resort feel
Location: Muri, Ngatangiia
Star Rating: 3 stars
Average Rating: 8.9
6. Palm Grove
Looking for somewhere you can completely relax, away from all the busy resorts? Palm Grove has less than 25 beach bungalows which makes for a relaxing, intimate getaway. The resort also features an on-site restaurant and bar so you've got all bases covered.
Palm Grove is located on a quiet beach called Turoa. There's also a freshwater pool and a children's pool at the resort so you're spoilt for choice of swimming spots.
Resort Highlights
Away from the hustle and bustle of bigger resorts
Quiet beach
Onsite swimming pools, restaurants, and bars
Free happy hour on Fridays 4.30-6.30pm
Location: Turoa beach, Takitumu
Star Rating: 3 stars
Average Rating: 8.4
Cheap Resorts in Rarotonga
Perhaps there's no such thing as a cheap Rarotonga resort, but these are some of the more affordable accommodation options that really stand out. You'll get great value by choosing to book a stay at one of these resorts, but you may have to give up a few luxuries – like modern rooms or a perfect location.
The good news is, even if you book your Rarotonga accommodation in a less than ideal location, it's still only a short drive or bus-ride to anywhere on the island – the place is tiny!
7. Edgewater Resort Rarotonga
Edgewater Resort & Spa is one of the most popular resorts in Rarotonga. The hotel runs a bunch of tours and activities.
If you have kids with you, and you're on a budget, Edgewater Resort is the place for you. There's plenty of things to entertain the kids while you relax on their private beach. That's right, Edgewater Resort has a private strip of the beach exclusively for its guests!
This place is unique in the fact that every Tuesday and Saturday night there's a cultural show and Polynesian feast. The performers can really dance! Immerse yourself in Cook Islands' culture without having to leave the resort!
If you're a big fan of Italian food (as am I), pay a visit to Spaghetti House next door. You won't be disappointed.
Located in the Arorangi district near Black Rock beach, this is walking distance to a great place to snorkel, swim, and explore. Being on the west side of the island makes this resort a great place to watch the sunset, without being too far from both the capital town, Avarua, and the main beach, Muri.
Resort Highlights
Coconut Kids Club
Island night show and feast
Private beach
Location: Private beach in Arorangi
Star Rating: 4 stars
Average Rating: 7.8
8. Lagoon Breeze Villas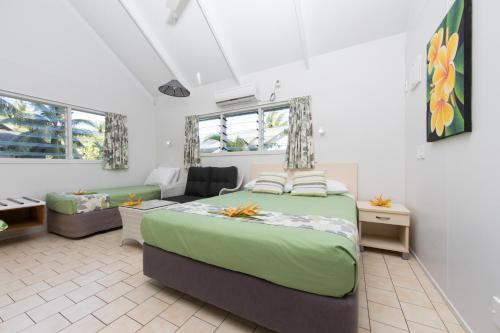 Lagoon Breeze is a great choice for a relaxing holiday. The resort is suitable for families and couples alike.
Lagoon Breeze Villas is located in Arorangi near A'roa beach, making it an amazing place for snorkelling, swimming, sunbathing, and watching the sunset with a cocktail. Plus, plenty of activities are available to keep the kids busy while you relax.
Chill out in the outdoor lounge then Go for a swim in the resort's swimming pool and toddlers can even enjoy the paddling pool. Barbeques are available for use, as well as water equipment such as kayaks and snorkels. Join their complimentary scuba lessons for beginners on Saturdays.
Enjoy Happy hour at the resort's bar and a complimentary tropical breakfast each morning.
This family-oriented resort has large villas available and equipment to keep the kids entertained. Babysitting services are available if you want to duck out for a date and have some times to yourselves.
Just note this resort isn't absolute beachfront but one of the most beautiful beaches in Rarotonga, Aro'a is located just across the road. It takes less than a minute to get there.
Service is awesome and it's great to be so close to everything, without being in the heart of Muri.
Resort Highlights
Great family feel
Toddler's pool and playground equipment
Babysitting services
Location: Aro'a beach, Arorangi
Star Rating: 3 stars
Average Rating: 9.3
9. Club Raro Resort
If you're looking to spend a lot of time in the main town, this resort may suit you best. Club Raro is only a five-minute drive to Avarua township where you can eat and shop your heart out.
The resort itself has two pools; one main pool and a shallow pool for toddlers. Did I mention Club Raro is a resort with a swim up bar?
Make sure to consider the location before booking here, though. The beach is not at all suitable for swimming or snorkelling, but the bars, pools, and price point more than makes up for this. Just jump on the bus or drive 20 minutes to the good beaches any time you're up for it.
Resort Highlights
Five-minute drive to Avarua township
Toddler's pool as well as a swimming pool
All rooms are decently priced
Location: Avarua town
Star Rating: Three stars
Average Rating: 7.5
What to Look for When Choosing a Resort in Rarotonga?
Equipment Hireage
Many resorts will offer free hire of snorkels and flippers. In our Rarotonga packing list, we recommend bringing your own, but sometimes that's not convenient.
Some resorts also provide kayaks and paddleboards, and both kids and adult-sized bikes. Take advantage of this to save some money and entertain the kids. Ask if you can take your snorkels with you all day to try out some of the other snorkelling spots, or use the bikes as a means of transport to get around the island.
Airport transfers
Your resort may also provide free airport transfers. This may also be compulsory if arriving late at night or early in the morning. The airport transfer staff show you to your rooms as many resorts' receptions are not open 24/7. This is an incredibly efficient system and since we arrived at 2am, we were happy to get to our resort quickly and into bed!
Consider a day trip to Aitutaki
Being an iconic location for weddings and honeymoons, Aitutaki has also been known as Honeymoon Island. You can see why this island has proven popular; it has undoubtedly some of the most beautiful beaches in the world. This, unfortunately, calls for inflated prices and limited family accommodation available. Often, resorts do not allow children altogether, or many rooms only cater for two people.
Instead of forking out hundreds for flights and accommodation on Aitutaki, consider booking a day trip over there. The snorkelling tours are a lot of fun. They usually begin with snorkelling around the island, followed by a huge buffet lunch and entertainment. They're reasonably priced too at just over $100 for adults and $50 for children. Often, tours do not charge for under fives.