Wanaka is a town known for its turquoise lakes, snow-capped mountains, and incredible scenery. Located only an hour from the famous New Zealand city of Queenstown, Wanaka is worth a visit, or even a stay for a few nights.

At the fringe of Mt Aspiring National Park, with two ski resorts just around the corner, Wanaka has become a popular holiday destination in recent years.

We've spent weeks exploring Wanaka and the surrounding area and have put together our list of the best things to do in Wanaka. There's a little something for everyone, whether it be for the hikers, adrenaline junkies or wine lovers, we'll make sure you have an unforgettable trip!
Read on to find out our top picks!
Best Things to Do in Wanaka
Despite its tiny size, Wanaka is packed with epic activities. Expect to eat amazing food, take some mind-blowing photos and experience adventure activities to rival Queenstown.
1. Visit the Iconic Wanaka Tree
You can't visit Wanaka without seeing the most iconic Wanaka tree. This spot gets super busy – this is considered the country's most famous and most photographed tree. It's probably one of the most overrated things to do in Wanaka, but That Wanaka Tree is still a must-do.
Consider heading here outside of peak times to get your perfect instagram pic. Try visiting at lunchtime, or early in the morning to beat the crowds.

There's a car park along the edge of Lake Wanaka that's only a two minute walk from the tree.

For all the budding photographers out there, head there during sunrise or sunset when the light isn't as harsh. It is a VERY popular photography spot in New Zealand, so be prepared. If you want a great spot to set up your tripod for long exposures at sunset, head in early. To avoid the crowds, try sunrise instead.

2. Experience the Wanaka Lavender Farm
Drive about seven minutes away from Lake Wanaka and awaken your senses with the calming aroma of lavender at the Wanaka Lavender Farm. Wanaka Lavender Farm is filled with these beautiful purple flowers which makes it a popular photography spot, especially for wedding photographers.

If you're like us and aren't the biggest fans of lavender, you'll still have a great time wandering around the fields admiring the flowers. Wanaka Lavender Farm also has a gift shop where you can buy all things lavender, from honey to soaps and creams. Be sure to stop by their cafe on your way out to grab a lavender ice cream!
If you're allergic to bees, or are just afraid of them in general, then you may want to reconsider visiting Wanaka Lavender Farm. As beautiful as it is, it's not worth a trip to the emergency room.
3. Go Glamping
The latest accommodation trend, glamping, is popular for a reason – and Wanaka is the best place to do it! We reckon the brand new Cross Hill Domes near Hawea is the most impressive glamping spot in New Zealand.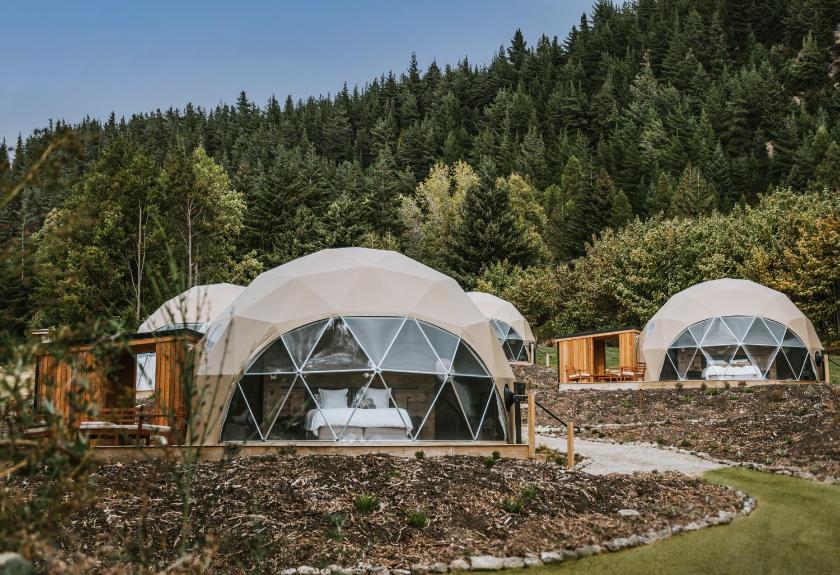 Now, we've stayed at a pretty wide range of Glamping spots over the past few years and each place seems to sit at a different spot on the 'glam' to camping scale. Cross Hill Domes is definitely on the 'glam' end.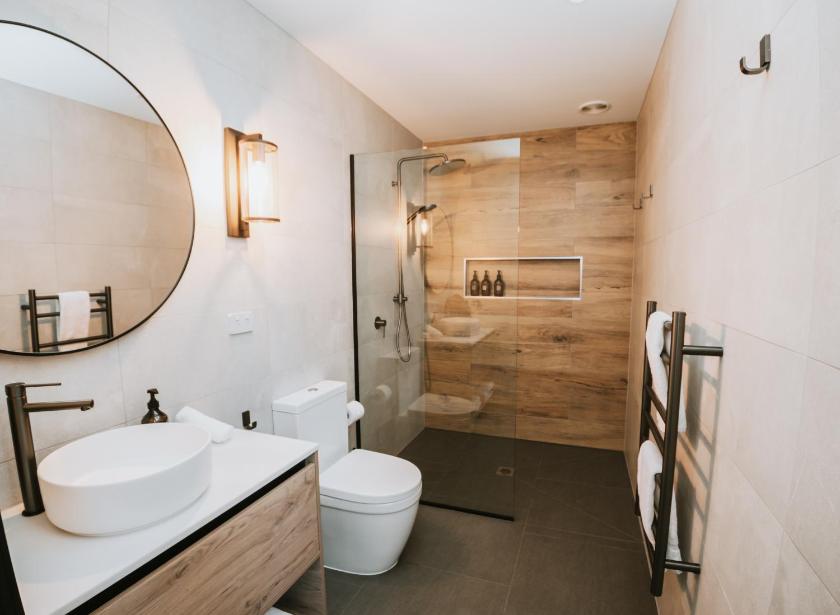 You get your own fully sealed 'dome' with a window that looks out to incredible views. For us, the best part was having our own private bathroom – we've set the benchmark low. But on top of the basics, you even get your own fire, wifi, hot tub and an incredible chef-cooked breakfast.
If you're keen and are glamping over summer then we'd recommend getting in and booking asap. It's super popular and tends to book out. If you change your mind you can always cancel but you can't go the other way.
4. Opt For a 4WD Tour
Going four wheel driving is a great activity for the hilly regions of the New Zealand South Island. Many tours are available, but choose one that also includes a boat ride so you get to experience the best of both worlds.

Wanaka Water Taxi & 4×4 Explorer offer an epic half-day tour which not only includes 4×4 ride high above Lake Wanaka, but also a picnic on the top of the mountain and a 30-minute boat ride tour. Pricing for this tour is around $235 NZD per person.

5. Take a Scenic Flight
What better way to see the whole of Wanaka than flying directly above it? See the snow-capped tops of the mount aspiring national park mountain ranges without having to tirelessly hike up them.

With the Southern Alps, Mount Aspiring, Lake Wanaka and numerous gigantic glaciers, Wanaka is one of the best places in New Zealand to book a scenic flight.
This scenic helicopter flight by Aspiring Helicopters is a majestic way to get out and see just how gorgeous Wanaka and the neighboring landmarks are. This particular tour is a great option as it includes two landings including one on snow for most of the year.
Personally, I've loved every helicopter trip I've ever been on. The ability to reach places that cannot otherwise be visited, and to witness views better than any you can hike to, makes it 100% worth the relatively high cost.
6. Hike Roy's Peak Wanaka
If you love going on hikes, don't miss out on this one. Roy's Peak features one of the most famous views in the whole of Otago. When you get there, you'll see why. The round trip is five to six hours (16 kilometres) and the views are absolutely breathtaking.

Believe it or not, there's a line to get that classic Roy's Peak Instagram photo. Check out the hashtag to see the photo. But take one look at the view and you'll see why this is one of the best things to do in Wanaka, if not New Zealand.

Consider timing the hike to reach the summit at sunrise. You'll need to start early, around 4am, which does sounds crazy, but the beautiful colours in the sky and sun-kissed mountains will be well worth it. For all the photographers out there, this is definitely the way to go.

If you're travelling through the warmer months, start the hike at no later than 7 am. It can get very hot and there are parts of the walk that aren't in shade. You don't really want to get caught at the summit in the midday heat. Bring enough food, water, and sunscreen. Bear in mind it can also get busier the later you leave.

On the flipside, winter hikers will need to carry alpine equipment as the mountain will be covered in ice and snow. For this reason, beginners should attempt this during the warmer months.
7. Have a Glass at Rippon Winery
Rippon Winery wins our award for the most beautiful scenery. The vineyard is set up with a backdrop of the Lake Wanaka (only two minutes drive) and the Southern Alps which makes for such a great sight.

The informal wine tasting was one of the best we've been to. Staff are incredibly knowledgeable about their wines and you also get to learn a bit about the history of the vineyard. Rippon holds great historical significance on New Zealand's wine industry and now practices biodynamic farming which is great for the environment.

You'll get to taste around six wines during the tasting which is all done free of charge. They do encourage you to donate to their restoration program which is a great cause. The winery closes at 5 pm daily so don't miss out!

The scenery makes it such a romantic location for a wedding. In fact, when we visited, we got to witness a ceremony amongst the vineyards from afar while sipping on their award-winning pinot noirs. Wine tasting with a few would definitely one of the most romantic things to do in Wanaka.
If you love visiting wineries and are in the area, we've also written a guide to the best Queenstown wineries which features Rippon!

8. Try Skydiving in Wanaka
Adventure junkies, listen up. Many of you will have skydiving on the bucket list. New Zealand is the perfect place to do so. If flying through the air at 200 kph interests you, you might like the sound of this incredible tandem skydiving experience by NZOne.

Skydive Wanaka and NZOne have tours available from 9,000, 12,000 and 15,000 feet in the air. On your descent, you'll be surrounded by the best views in New Zealand, including the Southern Alps and neighbouring mountain ranges.

Skydiving isn't cheap, but everyone we know who has taken part have said it's worth every cent. Tours start at $289 NZD.

We've got a scenic flight in this list of the best things to do in Wanaka as well, but if you go skydiving you'll technically get to do this too before you jump. Considering the scenic flights actually cost around $300 NZD as well, skydiving seems to be quite good value, albeit a bit more extreme.
Book your epic skydive over Lake Wanaka Here.

9. Climb Mt Iron
This is a great alternative for those not up for Roy's Peak or those who have children with them, but still want to catch some stunning views.

You'll be surrounded by native New Zealand shrubs as you climb to the summit of Mt Iron. Admire the views of the Southern Alps, Mount Aspiring National Park, Pisa Range, and Lake Wanaka – this is a classic view of southern New Zealand with only a 45-minute walk to the top.

Pack some food and snacks, then have a picnic once you reach the summit.

The descent will take you over the other side of the mountain providing different view points. The full hike will take you 90 minutes (4.5 kilometres).

10. Hike Rob Roy Glacier Track in Mt Aspiring National Park
This is an iconic choice for a medium length walk, sitting at 10 kilometres which will take you three to four hours return. Due to the length of the Rob Roy track, this is more suitable for adults and older children.

You'll get to see so much on this walk, from turquoise streams to a beech forest, to he snow capped mount aspiring national park. The highlight of the walk is the amazing views of Rob Roy Glacier.

Keep your eyes peeled for the native Kea who may be friendly enough to join your on your ascent.

Near the start of the hike, there's a swing bridge perched over the Matukituki River – possibly not the best choice of walks for those not keen on heights. It is definitely a stunning hike, so maybe it's a good place to conquer your fears?

Although this walk is a little out of the way (just over one hour from Wanaka town), it is located on the fringe of Mt Aspiring National Park, so you know the views will be spectacular.

Bear in mind, the last 10 kilometres before you get to the carpark is a fine weather only road. It might pay to check the road conditions prior to heading there.
11. Put your Brain to the Test at Puzzling World Wanaka
Puzzling World is definitely not just a place for kids. In fact, the last time I visited, I was an adult and I still had a tonne of fun. Think illusion rooms, a great maze, large sculptures and a puzzle cafe!

Tickets are $25 for adults or $18 for children to visit both the Illusion Room & The Great Maze. If you have the time it's worth checking both out.

They're open 8:30 am to 5:30 pm daily. It can get quite busy during school holidays and weekends, so if you prefer to avoid the crowds, try the weekdays or earlier in the mornings.

12. Walk the Diamond Lake Track
Located 17 minutes away from Wanaka town, Diamond Lake Track is a relatively easy hike that is worth a stop. The mirrored lake perfectly reflects the mountains surrounding the lake.

It's 20-minute walk to the lookout over the lake, then another 10 minutes to a lookout over Wanaka – definitely make it up to the second lookout. If you're up for it, continue on to hike Rocky Mountain. This takes about three hours return with spectacular views of the Southern Alps.

There are quite a few steps to get up to the lookout, so those with bad knees may want to sit this one out.
On the way back to Wanaka, stop off at Glendhu Bay. We actually didn't find this as impressive as some of the other things to do in Queenstown and Wanaka, so we only stayed for a quick photo. If you're pressed for time, consider missing this one out.

13. Stroll Along the Gladstone Track
The Gladstone Track spans around the lakeshore from the Lake Hawea Dam to Johns Creek Recreation reserve. It's an easy, flat walk great for that early morning stroll.

The full walk is just less than seven kilometres long and is not a loop, so take that into consideration. One way should take you around 90 minutes.

Once you've completed a walk, make sure you take a drive to the Lake Hawea lookout on the western side of the lake for amazing views of the lake, complete with a mountain range backdrop.

Once again, if you're pressed for time, just head straight to the lookout for the highlights.
14. Hit the Slopes of Wanaka in Winter
Enjoying the snow is without a doubt the best thing to do in Wanaka in winter. You'll find some of the best skiing and snowboarding in the world in New Zealand, and Wanaka is home to two of the best ski fields in New Zealand. It's also just a short drive to two other great ski fields in Queenstown, The Remarkables and Coronet Peak.
Cardrona
Cardrona Alpine Resort is the largest alpine resort in New Zealand. At just just over half an hour away from Wanaka, it is on the drive to Queenstown, just follow the Crown Range Road.
The resort caters for all abilities, from beginner to expert. This is a great place to go if you're trying out skiing or snowboarding for the first time – check out their lesson deals. In our opinion, Cardrona is home to the best ski fields in New Zealand and is the best place to visit for skiing or snowboarding.

They're open daily during the winter season from 8:30 am to 4 pm. Choose from a wide range of day passes, half-day passes, season passes, and ski and snowboard hire.
You can book transport, chairlift, and entry tickets here.

Treble Cone
Treble Cone is the closest ski field to Wanaka at a 24-minute drive, just past Glendhu Bay. It is typically less crowded than Cardrona with equally beautiful views.

There's a learner area for beginners and first timers, but this ski field is more popular for the advanced skier or snowboarder. Treble Cone features the longest vertical rise and vastest off-piste terrain making is amazing for cross country skiing.

During the winter season, Treble Cone is open 9 am to 4 pm daily.
Book single and multi day ski lift passes here, or choose this one if you need to hire equipment as well.

15. Join a Horseback Riding Tour
Connect yourself with nature and go horseback riding. It's a unique and fun way to explore the small town of Wanaka.

The South Island of New Zealand is home to some of the best places to visit in New Zealand. It is my absolute favourite place for horse riding trips as you're surrounded by the most picturesque scenes. Enjoy the backdrop of Lake Wanaka as you ride through the lush greenery of the south.

Some wine tours even end at Rippon Vineyard for a glass of wine which we mentioned earlier.

Tours can cater to all ages and abilities, and you may be able to have the option of booking a private tour. They typically cost around $70 NZD to $100 NZD for a two-hour tour.

16. Spend a Night in Hawea
At just a 15-minute drive from Wanaka, Lake Hawea is absolutely a must-do when visiting Wanaka. But there's actually a bunch of great things to do in Hawea, so if you don't mind moving your stuff we'd recommend spending a night here to get away from the town and explore a new area.
We stayed at Hawea Hotel for a night and were blown away by how cute this place was, and more so how incredible the surrounding landscape and views are. For under $200 a night you can get a lakeview room with jawdroppingly beautiful views.
17. Spend a Day Out Canyoning
Hike up mountains, abseil down rock formations, slide down natural water slides and take a dip in a rock pool. You'll get to do it all with Deep Canyon.

Being in the south of New Zealand, the water can get super cold in winter. Preferably, take on canyoning during the warmer months.
Tours start at $250 NZD and there's also an option for non-swimmers available. We'd only recommend these tours for those confident in the water to get the full experience. If you're not to fond of heights, it may be smart to sit this one out.
18. Go Rock Climbing
If you enjoy indoor rock climbing, step it up a notch and learn how to climb a mountain.

Wildwire Wanaka offer the best beginners course. The three-hour tour consists of learning the technique of "iron road" climbing, then scaling rocks at the Twin Falls Waterfalls. Iron road climbing involves cable, iron rungs and pegs.

You'll get plenty of practice before climbing the more difficult routes lead by experienced, helpful guides. This tour will cost you $199 NZD, including snacks and water at the summit. Worth it for one of the most exciting things to do in Wanaka.

19. Ride the Mountain Bike Tracks
Mountain biking is on of the best things to do in Wanaka thanks to the wide array of well-maintained and absolutely epic bike tracks. Here are a few of our faves.
Glendhu Bay Track
Enjoy the views of Lake Wanaka, lush greenery, and Damper beach as you cycle the Glendhu Bay Track.

It will take you between one and two hours one way (15 kilometres). The track is relatively flat with some short patch of steep gradients. Start at either the Ruby Island Road Car Park or the Glendhu Bay Campground.

This is also a popular walking track so look out for pedestrians.

Cardrona Bike Park
We can guarantee Cardrona Bike Park will have one of the best backdrops you've ever seen on a cycling trail.

They've got a wide range of equipment to rent if needed, including suspension bikes, safety equipment and private lessons.

The park is open 10 am to 4 pm daily and they have a late night on Fridays until 8 pm.

Entry costs $90 NZD for a full day at the bike park, or $50 NZD for children. Half-day passes are also available at a lower cost. There's no need to pedal uphill – just take the chairlift up!

Sticky Forest
You're spoilt for choice with over 20 tracks to choose from at Sticky Forest. The great thing about this pine forest is that the trails range in difficulty, from beginners to professionals. Check out the new Hikuwai tracks.

The riverside tracks double as walking tracks, so be mindful of walkers!

Roaring Meg Track
The Roaring Meg Track is located in the Pisa Range, amongst the highest cycle trails in the world. The range connects Wanaka to Queenstown with vast tussock-covered paddocks surrounded by incredible mountain ranges.

The track will take five to six hours (19 kilometres). Start at Tuohys Gully Car Park and continue to the Roaring Meg Car Park.

20. Go Paragliding Over Lake Wanaka
Paragliding is near the top of my bucket list. Cruise over Lake Wanaka a couple hundred metres in the air while you enjoy the 360-degree views!

Book a Lake Wanaka Paragliding experience to see the region from the sky. This particular package is a fantastic option for first timers as you'll be paired up with an experienced instructor.
21. Play some Disc Golf
Head down to Lismore park and try your luck at some disc golf while you admire the views of the mountains and Lake Wanaka. Hire a disc from the many outdoor stalls in Wanaka Town for $5 NZD.

The 18-net course is guaranteed to keep you entertained for a while. This is a great budget activity where you can get in your exercise for the day too!

22. Jet Boat Down the Mighty Clutha River
Jet boating is a popular tourist activity in New Zealand and Wanaka is a great place to do it. Shoot through the Clutha River while enjoying the view of the magnificent glaciers around Mt Aspiring National Park.

This Wanaka Jet Boat Adventure takes you flying down one of the world's fastest flowing rivers, the Clutha river. It's an adrenaline-packed and extremely fun activity, that is also safe and fun for most people – even the less-extreme adventurers.
Make sure to pick a jet boat ride that is suitable for your comfort-level and only choose a well-known, well-reviewed company such as Lakeland Wanaka above.
23. Paddle board and kayak along Lake Wanaka
Tourist activities in New Zealand can get quite expensive, so renting a paddle board or kayak and heading off without a tour group is a cheaper alternative to some of the other things to do in Wanaka. There are a few stalls along Lake Wanaka to hire equipment from.

If you aren't very confident in the water and are attempting these activities for the first time, we recommend you wear a life jacket and stay in shallow waters.

For those who are trying paddle boarding for the first time – it's much harder than it looks! Wearing swimwear is a must in case you fall in.

Tours are great for those new to kayaking, or those who want to venture out with the safety of a guided tour.
Alternatively, Glenorchy Lagoon is also a great place to try out kayaking.

24. Join a Packrafting Tour
We mentioned Wanaka River Journeys earlier as they offer great jet boat tours, but they also offer a fun-filled day out rafting.

Jet boat along the Matukituki River surrounded by mountain ranges and majestic glaciers. Then, stroll through a beech forest and jump on a packraft and go with the flow of the river.

25. Explore the National Transport & Toy Museum
The National Transport and Toy Museum is one of the best museums I've been to in New Zealand. Some individuals may not be so enthused when reading the word 'museum', but this one is fascinating for all. This is especially a must-see for car lovers.

They actually have one of the largest private collections in the world, in this small town of Wanaka! There's a large collection of rare and wacky aircrafts, automobiles, porcelain dolls, teddy bears and much more.

Bring the kids to the outdoor playing area complete with pedal tractors and trucks.

The entry fee is $18 NZD for adults and $5 NZD for under 18s. Under fives go for free and there's also a family pass available for $43 NZD. Pay them a visit anytime between 8:30 am and 5 pm daily.
Wanaka Accommodation
Wanaka is home to some incredible places to stay, the hard part is going to be choosing the right one.
As mentioned earlier, we spent a night at Hawea Hotel and were extremely impressed with the service, the rooms, the decor, and mostly the epic views over the lake from our room.
If you can stretch your budget a little further, the best luxury option near Wanaka is Cross Hill Glamping. Don't be mistaken, this is a luxury accommodation option. You get your own luxury bathroom with hot tub, fireplace, continential breakfast and more.
You will also want to make sure to spend some time in Wanaka town itself. Edgewater Resort is the perfect lakefront hotel with all the typical luxuries. Great rooms, some with lakeviews, a pool, attentive staff and an excess of facilities. We'd recommend this for most people, but especially for families.
For couples, romantics or treat-yourself-ers, The Hidden Spring is the perfect place to relax and forget the world around you. It's a lovely oasis away from the bustle of Queenstown.
Lastly, there's a good chance you're also planning a trip to Queenstown. We've stayed at a bunch of hotels in Queenstown (you can check the out here) but none have come close to the hospitality, service, and most importantly, views we found at The Rees. Trust us, this is where you'll want to stay in Queenstown.
Wanaka Restaurants
Most people visit Wanaka for the hikes and the scenery, but Wanaka town is also home to a bunch of delicious restaurants. Along the Wanaka lakefront, you'll get to choose from a bunch of bars and restaurants with lakeviews – these are all good options.
Our favourite places are found along the road adjacent, down the back. Firebird Chicken sells some of the best fried chicken we've ever had (we're pretty much fried chicken connoisseurs) and Burrito Craft right next door is delicious as well.
Down the road from here is a New World, as well as a small coffee cart with excellent coffee – a great way to kick start your day before heading on a long drive.
Is Wanaka Worth Visiting?
Wanaka is worth visiting to see some of New Zealand's best scenery, enjoy epic hikes and eat and drink your way through heaps of awesome bars and restaurants. Wanaka should be a part of every New Zealand South Island road trip.
FAQs
What are the top attractions to visit in Wanaka?
The top attractions to visit in Wanaka are Roy's Peak track, Isthmus walk, Rippon Winery and That Wanaka Tree. Make sure to read the entire list for all the best things to do in Wanaka
How do I spend a day in Wanaka?
If you only have a day in Wanaka we'd recommend planning a trip around your favourite activities. For us, that would include a sunrise hike up to Roy's Peak or Isthmus track, a stop at Rippon Winery near the start and end of these tracks, and a meal or drink in town by the lake. This ticks off the absolute best things to do in Wanaka.
How to get from Queenstown to Wanaka?
The drive from Queenstown to Wanaka (or Wanaka to Queenstown) takes around 1-hour through the unbelievably scenic Crown Range. Bear in mind, this is a high alpine road with a lot of bends so drive carefully and monitor the conditions in Winter.

If you aren't driving there are plenty of options via bus from Queenstown to Wanaka, or you could book a taxi / shuttle to drive you.