Known for its picturesque natural landscapes and epic adventure activities, Queenstown has something for all kinds of travellers at all times of the year.
The accommodation in Queenstown unsurprisingly follows suit, with 5-star apartments and luxury hotels through to charming BnBs and affordable backpackers (yes, we said affordable!).
Regardless of your budget or what kind of traveller you are, Queenstown is a must-visit destination and the perfect accommodation definitely exists.
Due to Queenstown's popularity, there is a huge variety of accommodation and choosing can be a daunting task, which is why we've narrowed down the hundreds of options down to our absolute favourite places to stay in Queenstown.
If you pick anything on this list, we're sure you'll have a magical experience in Queenstown, so make sure to check them out!
Queenstown Accommodation
1. The Rees Queenstown
To save you time, The Rees is our top pick for the best accommodation in Queenstown.
This 5-star hotel in Queenstown offers gorgeous lakefront views from all the rooms, even the more affordable ones (we paid around $390 per night), as well as options for larger and more luxurious apartments. However, even the more expensive rooms still have fairly similar views in our opinion and you get the same level of service regardless.
Of course, to offer these views it must be conveniently located right on the waterfront of Lake Wakatipu and just a short 5-minute drive to Queenstown's city centre. We'd argue you couldn't get a better located spot.
The rooms are immaculate and modern, and the staff are the perfect amount of attentive and friendly to help make your stay perfect.
We can't recommend The Rees enough – it's really the perfect place to stay in Queenstown (and no, they didn't pay us to say this!).
5 Star & Luxury Accommodation Queenstown
The luxury accommodation in Queenstown tends to sit on a sliding scale from semi-affordable through to you-better-be-a-millionaire prices.
The good news is, anyone who can stretch their budget a little can stay in a 5-star hotel in Queenstown with lakefront views such as The Rees for as little as $300 per night – with options for more luxurious apartments going much higher. It's really the perfect option for honeymooners.
If you're after something a bit more special, perhaps with a valet to park your lamborghini, then Queenstown's got you covered with Eichardt's Private Hotel located right in the heart of town, overlooking the lake.
2. Eichardt's Private Hotel
When it comes to the best hotel in Queenstown you can't look past Eichardt's Private Hotel.
This hotel is perfect for travellers looking for a lot of luxury whilst still being conveniently located right in the heart of Queenstown's city centre.
Guests can enjoy amazing service at Eichardt's, as well as great food at the Grill restaurant which is located next to the hotel. Everything from the comfortable rooms to the friendly staff and incredible views makes Eichardt's a top contender.
3. Gibbston Valley Lodge & Spa
Located in the heart of Queenstown's world renowned wine region, the Gibbston Valley, Gibbston Valley Lodge & Spa is the ultimate retreat for wine-lovers.
Of course, besides having access to an amazing restaurant and plenty of great wines, you'll have beautiful rooms situated amongst the vines, with the entire vineyard nestled beneath towering mountains.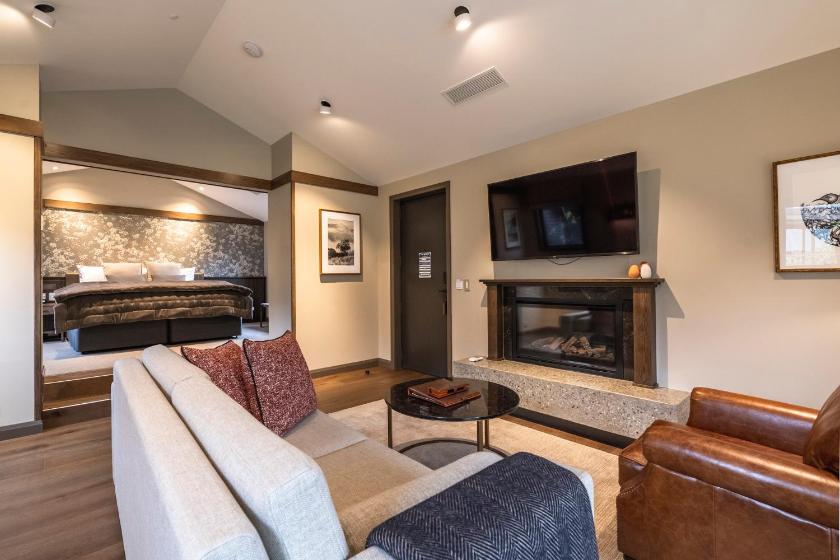 On top of all this, it's perfectly located just far enough from Queenstown to feel like you've escaped into nature, but close enough to head back in for some shopping, sightseeing or dining.
The Gibbston Valley Lodge is one of the nicest 5-star hotels in Queenstown and offers something a little unique that nothing else on this list can.
4. Luxury on The Lake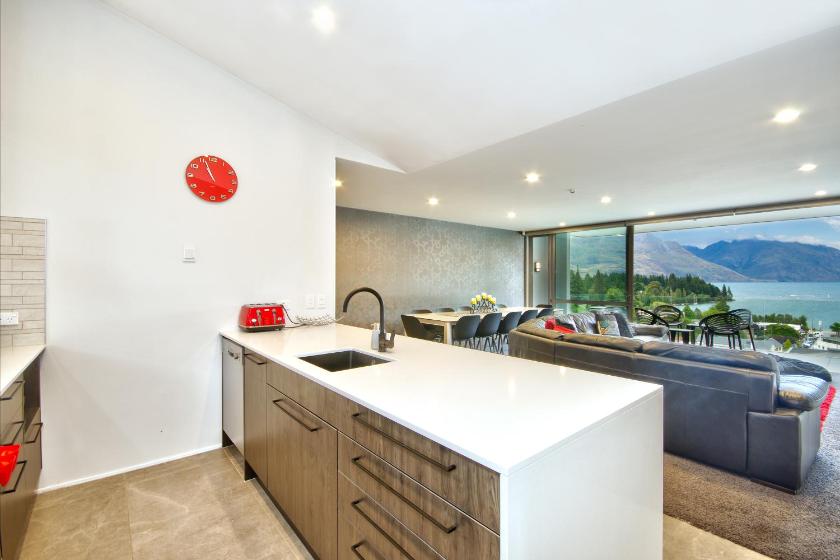 Luxury on The Lake is an apartment offering commanding views over Lake Wakatipu and the entire Queenstown township.
The rooms are very luxurious and modern, with plenty of space for larger groups. If you have a few guests with you then this is the best luxury holiday home in Queenstown.
Some of the seemingly endless amenities that we love include really warm underfloor heating and a temperature-controlled fireplace – highly valuable during Queenstown's chilly winters.
It's the perfect location right next to the lake and within a short walk of town. You won't be disappointed with Luxury on The Lake.
Mid-range Hotels in Queenstown
If you can't quite stretch the budget for The Rees, then these mid-range hotels in Queenstown are your next best alternative.
At the under $300 per night price point, you'll most likely want to forego the super convenient location or the lakefront views. There are still places offering stunning views, great service and nice, modern interiors. These are the places we'd recommend.
5. The Canyon's B&B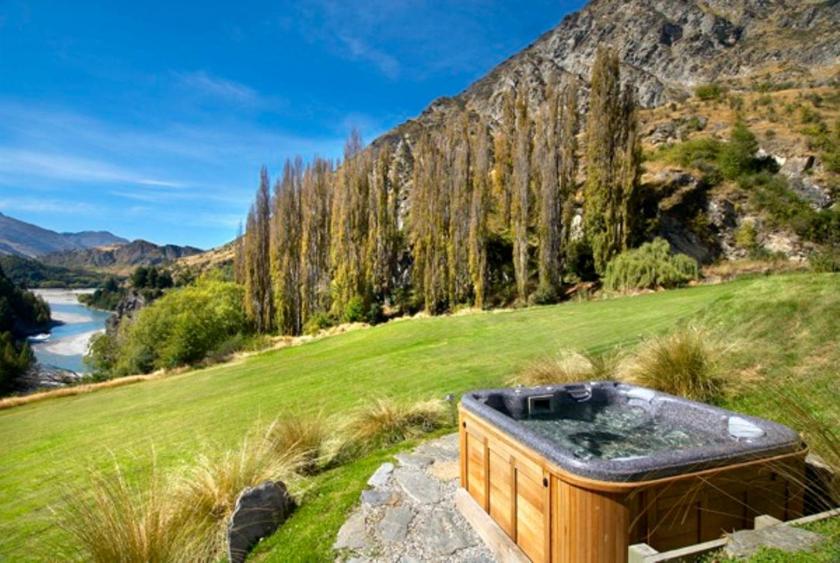 The Canyon's B&B is one of our favourite places to stay in Queenstown. It is a gorgeous BnB located just a short drive inland from Queenstown.
Of course, this doesn't mean you'll be foregoing views of the lake, but it more than makes up for it with stunning views out over the Shotover River and the valley around it.
The rooms here are spacious and beautifully laid out with everything you need. You'll also want to make sure to include breakfast when booking as it's particularly impressive.
The spa pool is a nice bonus and is a great way to relax in the evening while you watch the sunset, or stay out later for some stargazing.
6. Kamana Lakehouse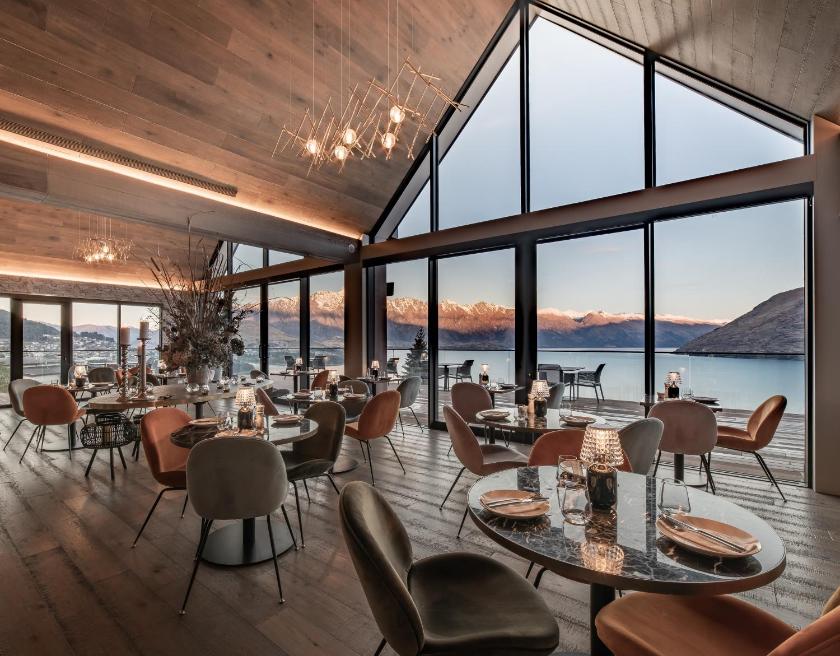 Kamana Lakehouse is a great place to stay in Queenstown. The rooms are extra clean and have comfortable beds and pillows. The views from the room and from the restaurant are amazing. The food is good, and the staff is friendly and helpful. They make sure you have everything you need during your stay. It's one of the best restaurants in Queenstown.
In a similar ballpark pricewise to The Rees (which we adorably mentioned above), Kamana Lakehouse is a great alternative located just on the other side of the city in Fernhill.
The rooms here are clean, modern and comfortable, many of which also offer stunning views over Lake Wakatipu from high up on the hill that Kamana Lakehouse is perched upon.
Our favourite aspect, however, of Kamana Lakehouse is the gorgeous restaurant with 180-degree views and a balcony that is perfect for taking photos on.
You can't go wrong booking your stay at Kamana Lakehouse, but if you do pick a different spot, at least make sure to visit the restaurant, The Nest, as it is one of our favourite things to do in Queenstown.
7. Hilton Hotel Queenstown
The Hilton is one of the best hotels in Queenstown offering great views, amazing pool facilities, room service and all the other perks of staying at a high end hotel.
However, the experience comes at a bargain due to it being located a little further from town. However, there is a convenient ferry service that brings you straight into the city without having to worry about parking, and when it comes to exploring the wider region being located away from the traffic is a bonus.
Overall, the Hilton provides guests with an amazing experience.
8. Matakauri Inn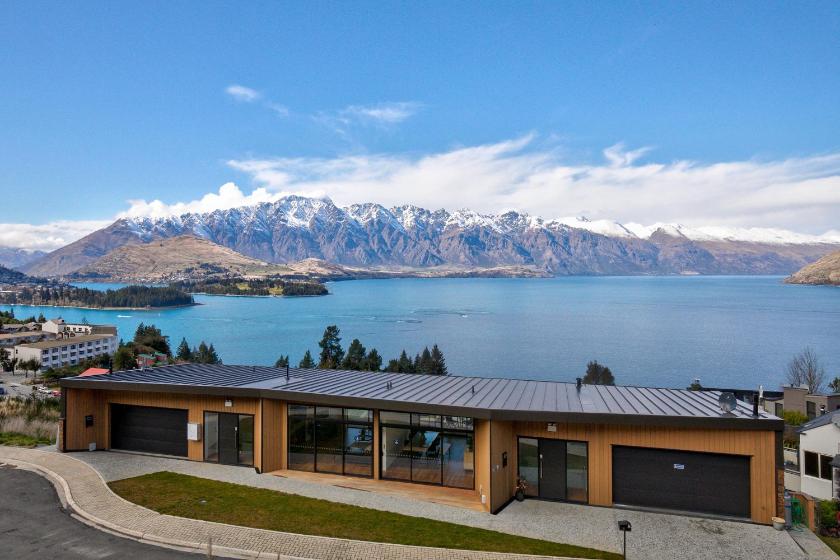 Photos do not do justice to what the view from Matakauri Inn looks like. The view is absolutely stunning and you can't imagine what it looks like until you see it yourself!
The host is super nice and the vibe of Matakauri Inn is best described as very peaceful. The rooms are spacious with large beds and really impressive showers.
The best part about the rooms is the balcony overlooking Lake Wakatipu. This is the perfect place to relax, enjoy a glass of wine and eat a takeout meal at home.
Cheap Queenstown Accommodation & Hostels
Queenstown isn't touted for being one of the most affordable places to visit in New Zealand, but that doesn't mean it can't be cheap. We've stayed in hostels and cheap hotels in Queenstown numerous times and have been pretty impressed with the quality.
Sadly, our favourite hostel in Queenstown, YHA Lakefront, has had to close its doors due to COVID-19. That said, we can also confidently recommend these other budget options.
9. Adventure Q2
With the recent closure of YHA Queenstown Lakefront, Adventure Q2 is now our favourite hostel in Queenstown.
The dorm rooms here are nice and comfortable, however, we've opted to stay in the double room in the past which offers a tiny sliver of a view over Lake Wakatipu – you don't expect even this much when booking budget accommodation!
There are great communal areas including a well-stocked kitchen including a tv and everything else you'd expect from a top-notch hostel.
10. The Flaming Kiwi Backpackers
The Flaming Kiwi Backpackers is definitely worth considering when looking for cheap accommodation in Queenstown. The staff here are super friendly and welcoming and the vibe makes it an awesome place for meeting other travellers.
The shared kitchens and bathrooms are really clean and comfortable (something that isn't all too common in backpackers).
The location is also super handy being just close enough to town to walk but far enough to enjoy some peace and quiet in the evenings.
11. Mi-Pad
Mi-Pad is a super conveniently located hostel located on the outskirts of Queenstown's city centre. The street right outside offers free parking in the evenings, which this close to Queenstown is a massive perk.
We found all the rooms clean and tidy here, albeit a bit on the small side. It's also worth noting that the service is largely non-existent and the vibe (at least when we stayed) was pretty quiet. This can be a pro or a con depending on what kind of traveller you are!
Despite this, the rooftop area is pretty impressive (photo above) and well worth staying here for this alone.
Technically, Mi-Pad is a 'smart hotel'. This sounds cooler than it is. Some of the lights are strange colours and others turn off sporadically. We didn't care much for it either way.
That said, the hostel is clean, tidy, located well and affordable making it an awesome choice for budget travellers.
12. Absoloot
If you're looking for a great place to stay in Queenstown, look no further than Absoloot. The location is perfect – right on the waterfront with stunning views – and the bathrooms, rooms and kitchen are always clean and well-organised. Plus, it's great that they provide body wash liquid and towels for free, as well as a TV room with Netflix. Thanks, guys, for making us feel at home!
Located right on the waterfront, Absoloot is definitely worth considering. You can walk downstairs and be right in the heart of the city with great restaurants, bars, cafes, shops and more right around the corner.
The rooms and facilities are all great, but the best part about Absoloot is the view from the communal area. It's an amazing place to hang out while enjoying a meal from Ferg Burger or Ferg Baker without having to splurge on a restaurant with a view.
*Support a couple of Kiwis! Booking through the links on this page (like the blue one above) helps us pay the bills, at no extra cost or inconvenience to you. You can even bookmark the link for later!
Where to Stay in Queenstown
We generally recommend staying near the city centre. For most travellers, having quick access to great bars, cafes and Queenstown restaurants at any time is the most important consideration when choosing the location of your accommodation.
Staying right in the heart of town, although convenient, can be a bit of a hassle for parking and noise, so we'd also recommend any of the places just outside of the busy city centre, including anything between Fernhill and Frankton.
If the purpose of your trip is to head out to the Queenstown ski fields, then consider accommodation closer to Coronet Peak, The Remarkables or Wanaka. Frankton, accommodation near the airport, Gibbston Valley or even Lake Hayes will bring you a little closer to Cardrona.
Best Areas to Stay in Queenstown
Queenstown City Centre
The perfect place to set up a base with trendy bars, cafes and eateries all nearby. If you haven't rented a car then you'll also want to make sure to stay here.
Frankton
A bit closer to the airport and the Gibbston Valley wineries, Frankton is a solid option as well. It's close enough to drive into Queenstown city centre, but also has its own set of shops if you want to avoid the business.
Arrowtown
Arrowtown is a beautiful, little town located a short drive out from Queenstown. In general, we don't recommend staying here as it's easiest to visit from Queenstown, but if you're looking to get away from the busy city then it's not a bad option.
Queenstown Hill
Queenstown Hill is stunning and offers grandiose views over Lake Wakatipu. If you can find a place to stay here then we'd absolutely recommend it. Due to land-use restraints in place, accommodation can be limited and typically will be found on AirBnB.
Fernhill
Just around the corner from Queenstown city centre, on the way to Glenorchy, Fernhill is a lovely suburb and a convenient spot to stay that is close enough to Queenstown city centre but without having to worry too much about parking.