The Coromandel is one of the most beautiful places to visit in New Zealand and is an incredibly popular destination for locals looking to escape to the beach.
Whitianga is a popular base for travellers as it is a beautiful coastal town located right on the picturesque eastern side of the region. The good news is there's truly no shortage of amazing things to do in Whitianga and the surrounding Coromandel area.
As kiwis, we've travelled to Whitianga for countless beach holidays and weekend getaways so make sure to read on for all of our top picks!
Things to Do in Whitianga
1. Visit Cathedral Cove
Cathedral cove is a breathtaking beach located along the eastern coast of the Coromandel. It is extremely popular and heavily touristed during the peak summer season, however, don't let this dishearten you. Seeing this beach is worth braving the crowds!
To get to Cathedral Cove from Whitianga you'll first need to drive 34-minutes south and park at the Cathedral Cove Park & Ride in Hahei. It is then about a 2-hour return walk from the car park to Cathedral Cove. There is a bus service that can cut this journey down significantly.
The best option, which will save you an hour of driving and two hours worth of walking, is to take a boat cruise from Whitianga. The Ocean Leopard Boat Tour is one of the most popular options and will give you time to explore all the bays, see some wildlife, take amazing photos and go for a dip.
If you're driving, we'd recommend getting up at sunrise to avoid the crowds.
If you want to go this route then staying in Hahei for a night is an excellent idea. We've stayed at Tatahi Lodge four times and will be back again – it's perfect for the walk to Cathedral Cove.
If you're more into camping then Hahei Beach Resort is one of our favourite commercial campsites in New Zealand and is a really fun and enjoyable place to stay in Hahei throughout summer.
Strangely, the burgers here at Hahei Beach Resort are possibly the best in New Zealand.
2. Hike the Pinnacles Track
The Pinnacles Track is one of New Zealand's best day hikes, although we prefer to spend the night in the hut. The hike up takes just 2.5-hours and once you reach the top you'll be rewarded with commanding views out over the Coromandel.
We'd highly recommend staying in the hut as it will enable you to make the climb up to the top for one of the most incredible sunrises we've ever witnessed.
3. Stay at Wairua Lodge
Wairua Lodge is more than just a lodge. It's a beautiful retreat, the perfect escape from your busy life and the most serene forest oasis we've ever seen.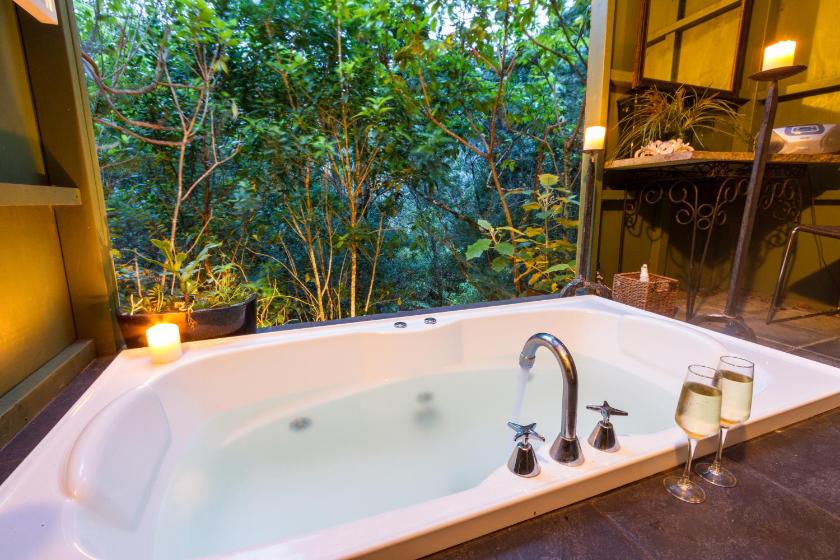 Staying here is a bucket list experience and as such has earned its own spot on this list as a 'thing to do' as well as an 'accommodation'.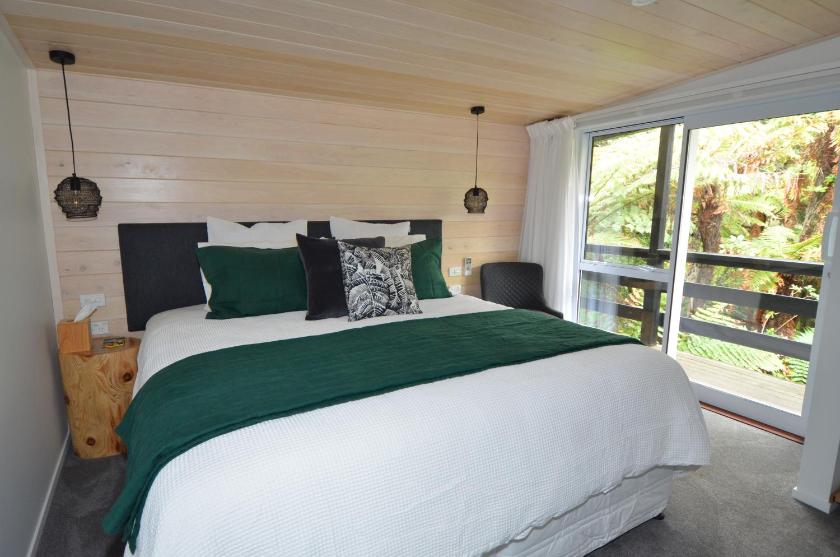 The best part is this luxury escape isn't even that expensive! But the catch is it's almost always booked out. Well, it's still worth checking out and if it's free on your dates make sure to lock it in!
4. Relax on New Chums Beach
Voted as one of the world's best beaches, New Chums Beach is a pretty and picturesque beach with an epic viewpoint. Although we haven't visited every beach in the world, we have to agree that it's certainly up there with the best.
The beach is a 38-minute drive from Whitianga and comes with a short walk along the water to get to the beach itself. This small effort makes the beach a bit quieter and more secluded – it's more than worth the walk from the carpark.
5. Soak in The Lost Spring
The Lost Spring is a geothermal wonderland with mineral hot pools, a spa and a lovely restaurant. It's the perfect place for anyone wishing to be whisked away from their real life for a day.
This tropical getaway will revitalise you as you chill out in the hot pools sipping cocktails and enjoying platters. Although this isn't really what the Coromandel is all about, we reckon this almost tops the list of things to do in Whitianga.
6. Explore Whitianga Town
Unsurprisingly, most of the best activities in Whitianga are technically outside Whitianga, forcing you to get in your car and drive out to do some sightseeing.
But while you're in Whitianga, don't forget to take some time to explore the town itself. It's a quaint little place that really does epitomise New Zealand. We recommend exploring the town on foot. Grab a pie at one of the bakeries, or some fish 'n chips, and eat it down by the water.
7. Dig a Hot Pool at Hot Water Beach
The iconic Hot Water Beach is one of the most popular destinations and best things to do in the Coromandel. The beach itself is nice but the real reason people visit is for the geothermal springs running beneath the sand's surface.
There are a few tricks to making the most of your visit to Hot Water Beach. Firstly, there are two car parks and you will want to head to the spot in between the two car parks. It's also important you head here 2-hours either side of low tide.
Lastly, you're going to want to find the crowd of people and dig in a few spots until you hit the warm spots. The hot water flows under the sand in streams perpendicular to the ocean so dig a series of holes until you find the right spot!
8. Mercury Bay Museum
If you're keen to dive in and explore some of the Coromandel's historic past then Mercury Bay Museum is the perfect little museum to do so.
The museum has a handful of impressive exhibits that share stories about the early navigators, kauri logging and the region's history of dairy farming.
All in all, an intriguing and fun way to spend a couple of hours and better than many other small museums in New Zealand. Especially a must-do on a rainy day.
9. Go Glamping at Slipper Island Resort
Slipper Bay island is a remote and secluded island just off the coast of Tairua.
Usually it's not a destination, but Slipper Island Resort is located on this island and offers arguably the most incredible Glamping accommodation in New Zealand (well up there with the likes of Cross Hill Glamping in Wanaka)!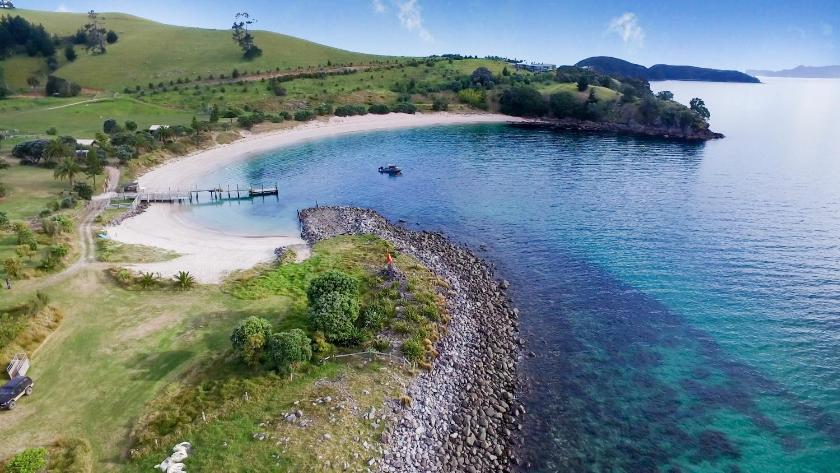 The accommodation on the island is luxury at its best with gorgeous views from each room. Despite this, we wouldn't recommend the chalets unless the glamping is sold out. There's nothing wrong with them, but we're all about finding somewhere unique, fresh and new. Plus we frickin love glamping.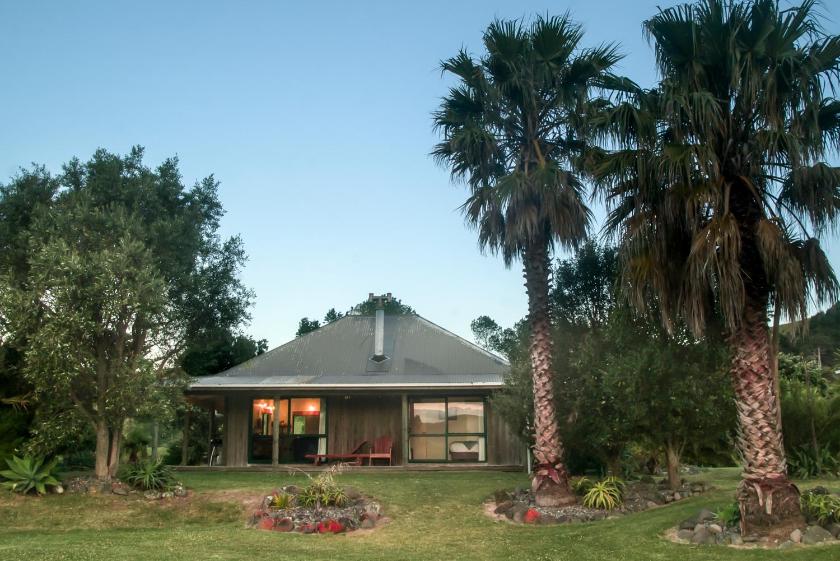 There's few things better than sitting on the porch of a luxury tent, sipping a cocktail and knowing your on a remote island in paradise.
10. Lie on Cooks Beach
Yet another picture-perfect beach in the Coromandel! Perhaps we're getting repetitive, but the beauty of Cooks Beach is in its close proximity to Whitianga, making it hands down one of the best things to do in Whitianga.
The beach has the typical white sand and sparkling blue water of the Coromandel Peninsula and is an awesome spot to swim and relax.
11. Go Jet Boating
After all the lying on beaches and hot springs you may be craving a bit of adventure, something that is fairly sparse and hard to find around Whitianga. Cathedral Cove Jet is a jet boat operator offering exhilarating jet boat rides out to Cathedral Cove and Cooks Beach.
There are few better places to experience hitting over 80km/h in a jet boat than the Coromandel Peninsula, and at the time of writing the tours were just $120 and $90 respectively.
12. Drive Down the 309 Road
Get away from the water and head inland along the famous cross-island 309 road. The road connects the east and west coasts of the Coromandel Peninsula, however, all along the way you can expect to find attractions ranging from intriguing to beautiful.
The Waiau Kauri Grove is worth visiting to see New Zealand's largest trees, Kauri. Meanwhile just down the road you'll come across Waiau Falls which is a pretty decent waterfall and watering hole tucked away just off the road – perfect to cool off in on a hot summer's day.
13. Enjoy the Views From the Shakespeare Cliff Lookout
The Shakespeare Cliff Lookout offers the best views in Whitianga town overlooking the ocean and Hahei.
The easiest option is to drive up but some brave travellers opt to hike the 1.5-hour walk up from the Ferry Landing. It's not too challenging but on a hot day we'd prefer to spend the time in the water!
14. Visit Opito Bay and Crayfish Bay
Whilst New Chums Beach gets all the attention, and Cathedral Cove attracts the crowds, it's Opito and Crayfish bays that are the true hidden gems of the Coromandel Peninsula.
Similar to New Chums, reaching the beaches is just 10 – 20min of walking from the car park and the effort is very much worth it!
15. Visit Hahei
We've already mentioned the ever popular Cathedral Cove, but even if Cathedral Cove didn't exist we'd still recommend visiting Hahei! We just love it so much here.
It's a pretty small beachtown with just a couple of shops and restaurants, however, the beach is spectacular and a worthy destination in its own right. The Hahei Beach Resort just down the road even has a couple of restaurants and a bar that people often don't know about. Set up your beach umbrella and chairs with a good book and you've got the perfect day.
Whitianga Accommodation
Whitianga itself is a popular town and an awesome place to set up a base for exploring the wider Coromandel region. Here are a few of our favourite places to stay in Whitianga, as well as a coupe in Hahei!
Whitianga
Wairua Lodge – stunning rainforest retreat just outside Whitianga township
Jennie's in Whitianga – a cute bed & breakfast right in town
Hahei
Tatahi Lodge – the perfect combination of nice, clean, cheap and convenient.
Hahei Beach Resort – our favourite commercial campsite in New Zealand
Day Trips From Whitianga
Whitianga is surrounded by beautiful beaches and every single one of them makes for the perfect day trip. Our favourite way to spend a day is to head south to Hahei, Cathedral Cove and Hot Water Beach for the day.
Conversely, head up north to New Chum's Beach and Kūaotunu in search of some more remote and paradisiacal spots.
How to Get to Whitianga
You can get to Whitianga from almost anywhere in the North Island of New Zealand fairly easily. It sits perfectly between Tauranga and Auckland making Whitianga a 2.5-hour drive from either.
Things to Do in The Coromandel
Looking for more? We've written a longer, more detailed guide on the best things to do in the Coromandel. The region is a lot more than just Whitianga and we recommend just using Whitianga as an accommodation hub as you explore the sights and attractions in the wider area.