New Caledonia is a great holiday destination with pristine beaches, turquoise waters rich with marine life and influence of French and Kanak culture. As well as the main island, Grand Terre, where many visitors choose to stay, there are also options of staying at resorts on the loyalty islands and the infamous Isle of Pines.

You'll be spoilt for choice when it comes to hotels in New Caledonia. No matter your budget, the accommodation options are nothing short of spectacular.

Read this guide to give you insight into the best locations and areas to stay in New Caledonia, as well as our top picks for accommodation and hotels in each spot.
Also, don't forget to check out our detailed New Caledonia travel guide with everything you need to know for your trip to New Caledonia.
Nouméa
Stay in Nouméa for:
Shopping, food and nightlife
Water activities
Budget travellers
Being the capital city of New Caledonia, Nouméa is a prime tourist destination and is definitely the best place to stay for first-time travellers to the country. New Caledonia's only international airport is found in Nouméa so it's also likely you'll have to fly in here.

There's plenty to see and do in Nouméa. There's every water activity under the sun (pun intended). Go for a swim, go snorkelling (this tour by Dal Ocean Charter is awesome) and scuba diving and test your balance paddle boarding. You can even go for kitesurfing and windsurfing lessons.

Choose from the many restaurants, cafes and bars for great food and drink options. There are many French bakeries with freshly baked goods and cafes with both sweet and savoury crepes available. If you're on the beach, there are endless options across the road from the water.

Nouméa is also a major hub for travelling to the loyalty islands, the isle of pines and other cities within the country. Many choose to stay in Nouméa and take day trips out to other places. This way, you'll be able to see many places as well as experience the capital.

There's a huge range of accommodation to choose from, including hostels, AirBnB, family resorts, hotels and guesthouses. You're guaranteed to find one within your budget that ticks off everything on your list.

Best Hotels in Nouméa
Luxury Hotels in Nouméa
You'll be in absolute luxury at Le Méridien Nouméa. Being the only five star hotel in the city, you can't get much better than this. Le Meridien as a resort chain is renowned for high-end luxury with resorts in Bora Bora and the Maldives.

There is direct access to Le Méridien Beach, outdoor hot tub, a swimming pool and a sauna and steam room. For the gym junkies, there's a fitness centre within the resort and a tennis court. Guests can hire canoes and windsurfing equipment free of charge.

There are two restaurants to choose from, one featuring delectable Japanese cuisine. The Grand Casino is less than five minutes walk from the resort. It's a great place to dress up and enjoy a cocktail following a nice dinner out.

Mid-range Hotels in Nouméa
Hôtel Le Lagon is in a great location at only a four minute walk from Anse Vata Beach. Enjoy an onsite day spa, a heated swimming pool and a luxurious lounge area by the pool. You'll definitely feel like you're being treated here. There's also a fitness centre, tennis court, water aerobics and complimentary trips to Duck Island.

It's hard to miss the Hilton Nouméa. Located directly across the road from Anse Vata Beach, you'll see a stretch of green lawns dotted with palm trees in front of white high rise buildings. Most of the hotel rooms offer ocean views.

There's a fitness centre, swimming pool and spa treatment facilities if you want to treat yourself. Their cafe/restaurant showcases traditional French and New Caledonian dishes.

As well as being at Anse Vata beach, it's only a five minute walk to Lemon Bay.
Chateau Royal Beach Resort & Spa is a spectacular place to stay in Nouméa. There's a luxurious resort feel with direct access to Chateau Royal Beach, day spa, hair salon, swimming pool and beautiful outdoor area.

With two restaurants and two bars to choose from, you're spoilt for choice. You can even visit the swim up pool bar for a refreshing cocktail. As if that didn't seem like enough, work out at the fitness centre, shop at the gift shop and play a game of tennis at the tennis court.
Budget Hotels in Nouméa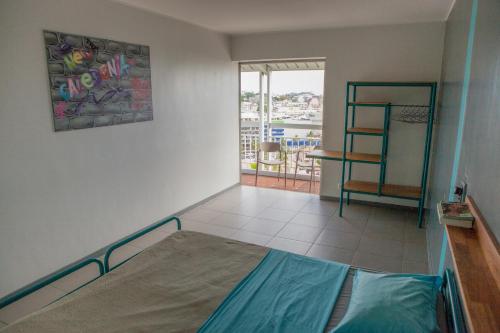 Auberge De Jeunesse is located in the city centre with both dorm rooms separated into male, female and mixed, as well as private double rooms. Bathrooms are located on every floor and there's a fully-equipped kitchen, tv/wifi room, table tennis table and laundry facilities. This youth hostel really has everything you'd need. At only 2000 XPF for a dorm room and 4600 XPF for a double room, this is definitely the cheapest accommodation option in Nouméa.
This is a great pick for a beachfront location that won't break the bank. Location is Hôtel Beaurivage's biggest advantage. Just cross the road and you're at Lemon Bay Beach. We prefer this beach over Anse Vata and it is less packed with tourists and features a bar right on the beach. If you want to spend time at Anse Vata, no worries! It's only a 10-minute walk.
Ile Des Pins New Caledonia aka The Isle of Pines
Stay here for:
Relaxation and luxury
Beaches and snorkelling
Honeymoons
Known as the 'jewel of the Pacific', you'll see why when you arrive. Instead of palm trees lining the shore you'll see pine trees, giving the island such a unique feel. This is a great place to stay if you're looking for a slice of paradise to relax in and are after beaches less packed and more luxurious than Nouméa. The isle of pines makes for a great honeymoon destination.

Piscine Naturelle is a place you absolutely must visit! The water is so crystal clear and teeming with vibrantly-coloured marine life. The water is very calm which makes it great for younger travellers or those not comfortable in water. This is without a shadow of a doubt amongst the best places to snorkel in the country, if not the world.

Kuto, Oro and Kanumera Bays feature beautiful white sand beaches as far as the eye can see. There's also sailing trips down the lagoon. Organise for one just before sunset and watch nature put on a show for you.

Bear in mind you will have to pay for either flights or a ferry ride here. Adults cost 11,000 XPF return for both options. In addition, accommodation at the Isle of Pines isn't cheap, with accommodation more suited to couples and honeymooners. Here are a few of the best options to suit all budgets and travellers.

Best Hotels in the Isle of Pines
Luxury Hotels in Isle of Pines
If you're looking for luxury, look no further. Le Méridien Ile des Pins is the only five star accommodation on the Isle of Pines. Choose between rooms viewing Oro Bay or the tropical gardens at the resort. All bungalows offer a patio or balcony.

Relax and recuperate at the day spa, go for a dip in the swimming pool or walk a few minutes to the Natural Pool for the best snorkelling on the island. When you're hungry, the resort's restaurant serves a large variety of great food. Try out traditional French and Melanesian dishes with fresh seafood and head over to the bar for flavourful cocktails.
Mid-Range Hotels in Isle of Pines
At a prime spot located at the end of Kanumera Bay, Oure Tera Beach Resort is also less than 10 minutes to Kuto Bay. Rooms are luxurious and immaculate, and each bungalow has a balcony.

Feast at two of the resort's restaurants then grab a cocktail at their bar. A buffet breakfast is included – fuel yourself for the day with eggs, sausages, bacon and French pastries. Occupy yourself with excursions offered by the resort, stand up paddle boarding, board games and French bowls.
Budget Hotels in Isle of Pines
Gîte Nataïwatch has been run by the same husband and wife duo for over 30 years. Located just minutes from the beautiful Kanumera Beach, the grounds are surrounded by lush green forests.

Less than 13,000 XPF will get you a semi-detached bungalow with shared bathroom facilities. This simple accommodation also has barbeque facilities and a restaurant open for breakfast, lunch and dinner. The team can organise boat, fishing and horse riding trips as well.

Hôtel Kodjeue in the isolated Ouameo Bay provides complete tranquility for your stay at the Isle of Pines. This location is perfect if you want a relaxing holiday away from the top tourist spots.

Bungalows start from 9000 XPF and there's also a swimming pool and restaurant to enjoy onsite. If you need transfers to Kuto, Vao or Oro the hotel will arrange this for you too, making it super convenient.

Loyalty Islands and Islets Near Nouméa
Our top three picks: Maré, Lifou and Îlot Maître.

Stay here for:
Beaches and snorkelling
Relaxation and Luxury
Empty beaches away from tourist masses
The Loyalty Islands surround the main island of New Caledonia, Grand Terre. Maré and Lifou are our top picks for the loyalty islands, and Îlot Maître, although not considered a Loyalty Island is a small islet very close to Nouméa.

The great thing about Maré and Lifou is that they offer guest house accommodation to stay in for a very small price. Less than 4000 XPF can get you a private hut with shared toilet facilities. For those on a limited budget, this is a great option to stay with the locals and immerse yourself into their way of life. While living it up on a beautiful island of course!

For those who prefer the New Caledonia hotel experience, there are one or two options available on each of the islands.

One great tip would be to keep an eye on the cruise ship timetables. Cruise ships often dock at the Loyalty islands for a day so plan your trip around this to avoid crowds.

Îlot Maître
Îlot Maître is a small island off the coast of Nouméa. Around 2500 XPF will get you a return boat ticket. It'll take about 45 minutes to get there so many do choose to do a day trip, but once you see this islet's beauty you'll soon change your mind.

The snorkelling here is great on the main side of the island – there is so much to see! On the other side of the island you can swim with the turtles, which without a doubt was the best day of our trip to New Caledonia. You can rent paddle boards and jet skis, bask in the sun and explore the island.

Îlot Maître is a great place to stay for those who want to escape from Nouméa and find a place to completely relax. This island is small so there isn't a lot to do apart from water activities and lounging on the beach. Being away from the main island, this comes at an advantage – you can fully relax. It is very peaceful and quiet here.

We spend a total of two full days here, and we found this to be just the right amount of time. Those who are happy to spend the days stuck into a good book or in the water swimming may want to stay longer.

Best Hotels in Îlot Maître
There's only one place to stay on the island, Doubletree by Hilton Îlot Maître. As you pull up to the jetty when your boat arrives on the island, you'll see bungalows on stilts floating over the beautifully blue lagoon. There's a restaurant at the resort, a pool and a water sports centre.

Compared to the accommodation on the aforementioned loyalty island, Doubletree Îlot Maître is a much more expensive hotel. Bungalows over the water are very luxurious and you do pay a higher price for it (~38,000 XPF). This could be a great option for a honeymoon. If this is a bit out of your price range, they also provide bungalows with a garden view at a lower price of around 25000 XPF. This is without a doubt, one of the best hotels in New Caledonia.

You can also check out the accommodation options for Noumea and take a water taxi to Îlot Maître.
Maré
Maré is situated off the east coast of the main island and features beautifully blue waters paired with long stretches of white sand beaches.

Flights to Maré do cost more than a ferry at 16,000 XPF versus 11,000 XPF so consider taking the ferry to save some money – if sea sickness isn't a problem for you.

Yejele Beach is the main attraction of the island with untouched beauty and stalls lining the beach. As well as food and drinks, the locals offer massages and hair braiding too. Sip on a fresh coconut and enjoy this little piece of paradise!

Best Hotels in Maré
Mid-Range Hotels in Maré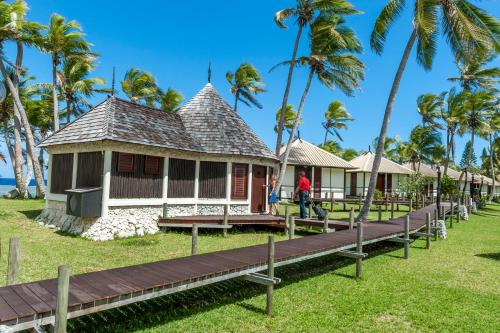 Located in the sought after location at Yejele Beach, Nengone Village Hotel is a great pick for Maré. This is the only three star hotel on the island featuring a restaurant and swimming pool. Nengone Village Hotel is the best mid-range accommodation on Maré.

There is snorkelling gear available, canoes, pétanque, a ping-pong table and board games available to keep yourself and the family occupied.
Cheap Hotels in Maré
The hosts of Chez Nath, Natalie and Noel are very welcoming. You can camp on their land at 1680 XPF or opt for a traditional hut at 3990 XPF.

The accommodation is very simple with a mattress for sleeping and an outdoor toilet, but this adds to the experience. For those who want to experience Maré as the locals do, this is a great accommodation option. There are only two huts available which makes for a more private experience.

Located at the north end of the island, you can find hiking trails nearby with interesting rock formations.

Like Chez Nath, Pe Une Guest House is also located in the north of Maré and has 2 thatched huts and one bungalow to offer. Once again, accommodation is simple with external bathrooms. It makes for a great, traditional experience. These are priced the same as Chez Nath at 3990 XPF for 2 people and campsites are available at 1575 XPF.
The unique thing about Pe Une is it's located in amongst an avocado orchard and vanilla plantation. You can visit these sites and have the opportunity to buy their vanilla pods.

Lifou
Being the largest Loyalty Island of New Caledonia, there are a couple ways to get here. Fly for 16,000 XPF return or opt for the ferry at 11,000 XPF return.

If you're travelling to Lifou chances are you're going to be spending a lot of time at Luengoni Beach. The contrast of the white sand with the turquoise water makes for an incredible sight. No explanation of the beach can do it justice – you just have to go there and see it!

Even better still, snorkelling is great here and you can also swim with the turtles! Definitely one to add to the bucket list.

Best Hotels in Lifou
Mid-Range Hotels in Lifou
Hotel Oasis de Kiamu is our top choice for mid-range accommodation. For an island resort with a private beach area, this is advertised at a very reasonable price. Furthermore, it's only about a 10 minute drive to Luengoni Beach.

Enjoy the bar and restaurant facilities onsite – be sure to try the delicious seafood. Relax in the hotel's swimming pool and relax in their sun terrace.
Being Lifou's only three star hotel, this is the best place to stay if you're looking for the best. Drehu Village Hotel is located at Chateaubriand Bay nearby many restaurant and takeaway options. It'll take you around 20 minutes to drive to Luengoni Beach from the hotel.

Dine at the restaurant, grab a drink at the bar, go for a dip in the swimming pool or pull up a sun lounger overlooking the sea. There's also snorkelling gear and kayaks available to keep you busy. Enquire about the sightseeing tours they have to offer.

Cheap Hotels in Lifou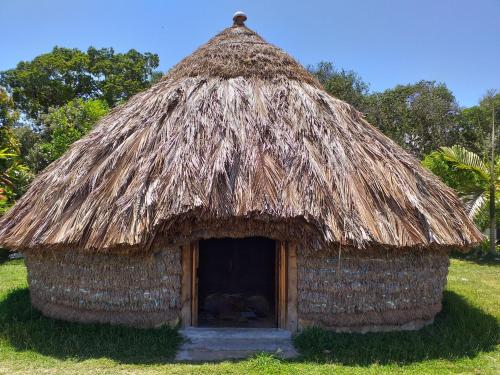 Serewud guest house is located at Wadra bay very close to Luengoni Beach in the southern part of the island. A 10 minute drive is all you need to reach this idyllic beach.

For less than 4000 XPF, you'll get a traditional hut for two people with simple furnishings and outdoor toilets. At less than 40 USD, this is a seriously great deal! You can even request for a continental breakfast as a small cost.
With an intimate total of two thatched huts available, you'll feel right at home in Jeanne's guest houses. Hoceleny is located on the west side. Although the location may not be as preferable as Serewud, it will provide a unique experience being amongst all the greenery. There is a sense of serenity and tranquility here, but don't expect a hotel experience.

Huts are available for 5575 XPF with comfortable beds and outdoor bathroom amenities. The option to camp here may also interest you.

Chez Bella's is located in the prime location of Luengoni Beach New Caledonia. The pop of colour from the surrounding fruit trees and tropical flowers is a sight in itself.

Similar to many guest houses in the Loyalty Islands, there are a limited number of huts available. It'll cost you 4200 XPF for a hut and 1575 XPF to camp.

Bella will also cook you the most delectable meals. Feast on fresh seafood and local cuisine.
Bourail
Stay here for:
Walks and hiking
Land activities
Quiet beaches
Until recent years, tourists rarely chose to stay outside the capital. Bourail is an up and coming tourist destination and has become increasingly popular. If you're a fan of land activities, and prefer to visit somewhere that isn't overrun by tourists, Bourail is the place for you.

Located on the island's west coast, this town features beautiful beaches that are less busy than in Nouméa. Check out Poé Beach with its 13 km stretch of white sand, the rock formations at La Roche Percée and swim with rays, dolphins and turtles at Bourail lagoon.

Whereas Nouméa has endless opportunities for water activities, Bourail thrives in its activities on land. There are many walks and hikes to go on, as well as horseback riding through the forests, paragliding, mountain biking and golf.

There's also plenty of cultural attractions in Bourail. Pay a visit to the museum to learn about the country's history, the military cemetary and the old lighthouse.

Visit during mid-August for the Bourail fair – there's three days of stalls, fair activities and entertainment including the locals partaking in a rodeo.

Best Hotels in Bourail New Caledonia
Luxury Hotels in Bourail
Treat yourself to Bourail's sole five star accommodation, Sheraton New Caledonia Deva Spa & Golf Resort. The beachfront location at Poé Beach allows for views of the UNESCO World Heritage Barrier reef with turquoise waters and pristine beach.

There's also a Kid's Club sure to keep the kids occupied for hours while you relax in the spa, infinity pool or play a game of golf at the resort's own golf course. Offering the choice of two restaurants and a bar, you've got everything you need at the Sheraton. Let's face it, you won't want to leave this luxury accommodation for long anyway!

If you need ideas for day trips and water activities, the tour desk is very helpful.
Mid-Range Hotels in Bourail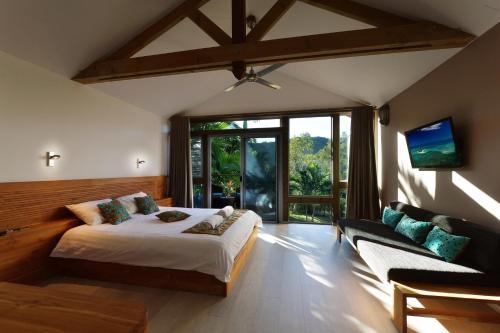 If staying amongst a 20-acre tropical forest is more for you, choose Betikure Parc Lodge. From the lodge, it's a five minute drive to Bourail's city centre and 15 minutes to Roche Percée Beach.

Take in the views of the mountain ranges, take a dip in the swimming pool and even treat yourself to a massage. There's an option for a room with a private hot tub and cooking facilities such as a stovetop and oven. Otherwise, delve into French cuisine at the lodge's onsite restaurant.

The reception also has many tips for day trips and offers a wide range of excursions.
Budget Hotels in Bourail
Auberge de Jeunesse Poé is the best place to stay for those on a tight budget. 2500 XPF will get you a dorm room or for those who want privacy, private rooms are 7500 XPF.

The best thing about this hostel (as well as the price) is the location. Auberge de Jeunesse Poé is right on the spectacular Poé Beach.

Each room has their own bathroom facilities, and there's also a communal kitchen, laundry and large common area. Chill out in the outdoor deck area surrounded by palm trees and lush greenery.
This choice for accommodation is bursting with character. Located at the beautiful Roche Percée, Nekweta Fish & Surf Camp is only a one minute walk to the beach.

Huts can sleep anywhere from two to six people and there's the option for a private bathroom within the hut, or shared outdoor bathrooms. For just over 5000 XPF, you can rent a bungalow for two.

One of the hosts, Stephanie is a great cook and there's also other options for restaurants nearby. The grounds of Nekweta Fish & Surf Camp are extremely quiet and peaceful, adding to the atmosphere.