Mount Maunganui, also known by locals as The Mount, is the perfect New Zealand beach escape. The coast is outlined by a picturesque, white sand beach headed up by a majestic maunga offering stunning views over Tauranga and out to sea.
Choosing the right accommodation in Mount Maunganui can be challenging. If you're looking during low-season you'll be bombarded with great options, whilst if you've left things to the last minute, you may struggle to find much at all!
That's why we've put together all of our top picks for places to stay in Mount Maunganui, to help you narrow down the options and make sure you pick the best place for your budget.
Where to Stay in Mount Maunganui
If possible, we always recommend staying as close to Mauao, the beach and the main Mount Maunganui town strip as possible. This makes enjoying the main Mount Maunganui activities so much easier.
Alternatively, if you plan to spend most of your time on the beach, then Papamoa is a solid option and it's always a short drive over to Mount Maunganui.
Otherwise Tauranga is also a great town to hang out in and can be a decent option. Accommodation here is often a bit cheaper and it's still super close to Mount Maunganui. An added bonus is you can find a great range of bars and restaurants around Tauranga, but personally, I prefer the restaurants in Mount Maunganui instead.
Mount Maunganui Accommodation
Luxury Accommodation Mount Maunganui
Experience the best accommodation Mount Maunganui has to offer, sparing no expense. These are the absolute best apartments and hotels in Mount Maunganui and they practically ensure you'll have a magical and memorable trip away!
1. The Pacific Apartments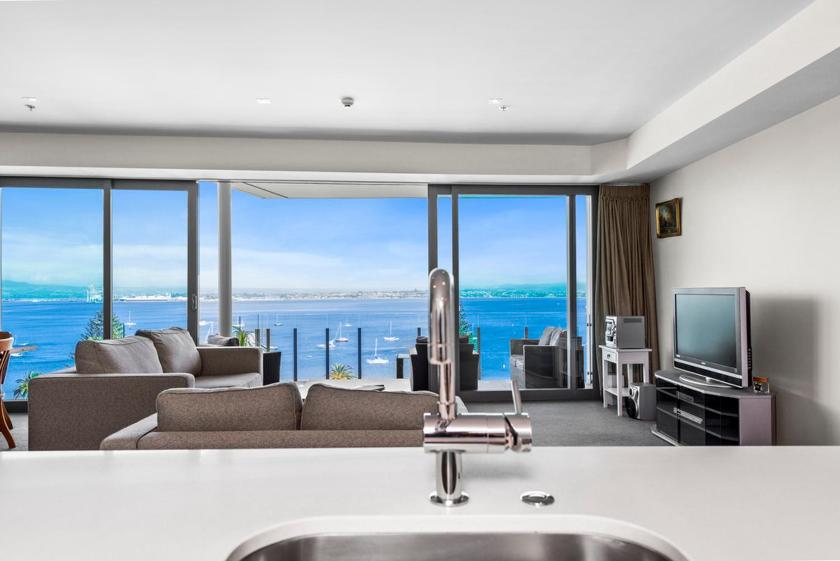 The Pacific Apartments straddle the line between upper-mid range and luxury accommodation, making it a great option for a wide range of travellers.
Although the one bedroom studios and apartments make for affordable luxury, it's the two and three bedroom apartments that command unparalleled sea views. These are the rooms you should be booking if you're after some of the best views from any hotel or apartment in Mount Maunganui.
Beyond the views, all of the Pacific Apartments offer a high-quality, luxurious experience. Expect spotless, clean rooms, easy parking, a gym, balcony, pool, immaculate customer service and, basically, all the luxuries you can expect from a high-end hotel – with the benefit of your own apartment.
We'd recommend booking straight away (there's always free cancellation if you change your mind), and put in a request for a seaview room on the confirmation page of Booking.com. Bonus points if you call up as well. This is just to ensure you get a great room as some have better views than others.
Highlights:
Excellent location
Epic views
Large, modern rooms
On-site parking
Average Rating: 9.2
2. Oceanside Haven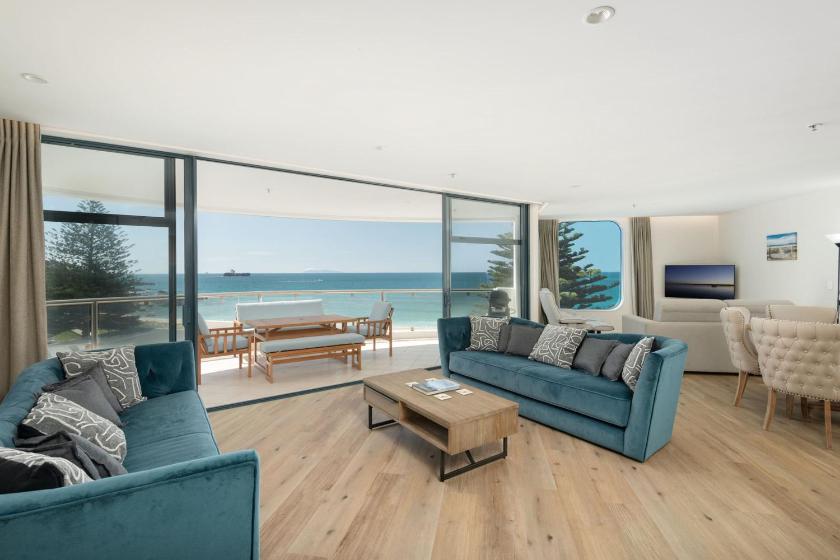 Where The Pacific Apartments is essentially a high-end hotel, Oceanside Haven is the ultimate luxury apartment in Mount Maunganui. You forego some of the amenities of a hotel in favour of staying in one of the nicest apartments in town.
The entire apartment is modern with tasteful interior design and furnishings, everything you could need is here. It's the perfect option for families and small groups.
Of course, the main selling point here is the expansive deck with picturesque views out to sea. You don't need the highest apartment when you're basically located on the beach, without other buildings to compete with the views.
Enjoy entertaining on the beach, stroll outside to the beach, climb Mauao right outside or wander into town. Oceanside Haven is literally perfection.
Highlights:
The best location possible
Entirely uninterrupted views
Large outdoor balcony with furniture and a Weber BBQ
Beautiful furnishings and design
Average Rating: 9.4
Mid-Range Hotels in Mount Maunganui
Not everyone can live life on a baller budget, but luckily you can book some pretty luxurious mid-range hotels in Mount Maunganui with much more modest price tags than the ones above!
Again, we love to opt for the best hotels and apartments located within walking distance to the beach and the main town strip. These are perfect options for almost anyone.
3. Mission Belle Motel
Located in a super convenient spot in the heart of Mount Maunganui, The Mission Belle Motel is the perfect spot for most people!
We're always a little sceptical when it comes to motels. It's far too common for motels in New Zealand to be at least a little neglected, run-down and tired. Luckily, The Mission Belle isn't one of these.
The motel has been exceptionally looked after by the owners, with nice modern rooms and a friendly, homey vibe to the overall place.
For the best value accommodation in Mount Maunganui, we reckon this is it. The motel is affordable, yet comfortable with little to dislike. The reviews attest to this.
Highlights:
Not beachfront, but located very close to restaurants, cafes and bars
Modern, tidy, well-furnished rooms and apartments
Lovely outdoor, communal areas
Average Rating: 9.3
4. Belle Mer Beachfront Apartments Mount Maunganui
Belle Mer Beachfront Apartments provide a similar level of comfort as other mid-range options on our list, but with a beachfront location that usually you'd have to pay a premium for.
Expect to have a wonderful stay here, with friendly staff, well-equipped and furnished apartments and, most importantly, an extremely convenient location.
The more affordable options here are a great choice for travellers on a budget who place a lot of value on being near the beach. At a great price, you'll get a nice room and be able to walk across the road to the beach.
The more expensive apartments are the real winners here, with impressive seaviews at a fraction of the price of our luxury picks above.
Highlights:
Beachfront location, at a great price
Tidy, well-equipped rooms and apartments
Average Rating: 9.2
5. Capri on Pilot Bay
Capri on Pilot Bay is a nice, modern apartment complex in Mount Maunganui. It's helpfully located right up against Mauao, however, on the side opposite to the main beach. This doesn't matter as it's still an extremely short walk to the beach, town and Mauao – ticking all the boxes.
You'll find the Capri on Pilot Bay serviced apartments fully-equipped with nice, modern furnishings and amenities. The most enviable of which, especially for families, is the gorgeous outdoor pool.
On top of the pool, we also think you'll appreciate the ability to step outside onto your own personal balcony. None of these have views worth writing about, but having a balcony at this price point is a nice bonus!
Highlights:
Great outdoor pool
Nice, tidy interiors
All apartments have a balcony
Average Rating: 8.7
Cheap Accommodation in Mount Maunganui
Unfortunately, all of the backpackers around The Mount are so poorly reviewed we've never felt the desire to try them out. Instead, we've always opted for alternative options on the cheap end of the spectrum.
Lodges, motels, guest houses and holiday parks are great options and tend to be a lot quieter than hostels. If you're backpacking and looking for a dorm room, we'd recommend checking out the Tauranga section below.
6. Seagulls Guesthouse
It's hard to find cheaper options that are also located well, but we found Seagulls Guesthouse to be the best cheap accommodation in Mount Maunganui.
They have a wide array of room arrangements to suit various types of travellers, some with shared bathrooms and others with ensuites.
As with the other options on this list, Seagulls Guesthouse is conveniently located within walking distance of Mauao, the beach and The Mount's town centre. At this price range you can't expect a beachfront, unfortunately.
Our favourite part about Seagulls Guesthouse is the great communal areas, including outdoor seating and a fully-equipped kitchen. If you're trying to keep costs down, then this will be invaluable.
Highlights:
Excellent location near city-centre
Nice communal areas including a kitchen and lounge
Affordable
Average Rating: 8.7
7. Mauao Studio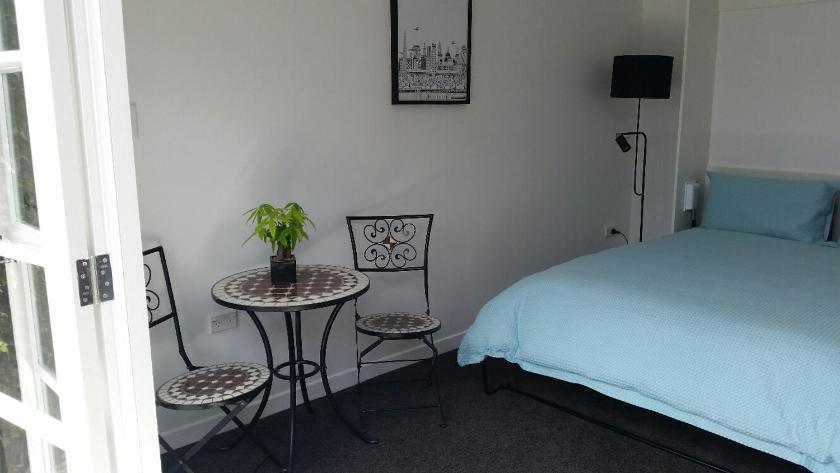 A little bit closer to Mount Maunganui beach than Seagulls, Mauao Studio is a great alternative if you're planning to spend most of your time lounging by the water.
The place is an entirely self-contained, immaculately presented studio apartment, equipped with everything you need. This guest house is much like an AirBnB with super friendly and welcoming hosts.
The only catch is that Mauao Studio can sell out fast on popular dates as it only accommodates for one booking at a time. For couples on a budget, or solo travellers, we'd probably look at booking this one as soon as possible.
Highlights:
Great location
Fully self-contained (no reliance on shared facilities)
Lovely hosts, homely AirBnB vibe
Average Rating: 9.1
Accommodation in Tauranga
If you're visiting The Mount, naturally, we'd recommend staying there as well! But accommodation can be a bit pricey and often books out quickly, so Tauranga is possibly the next best alternative.
8. Wanderlust Backpackers NZ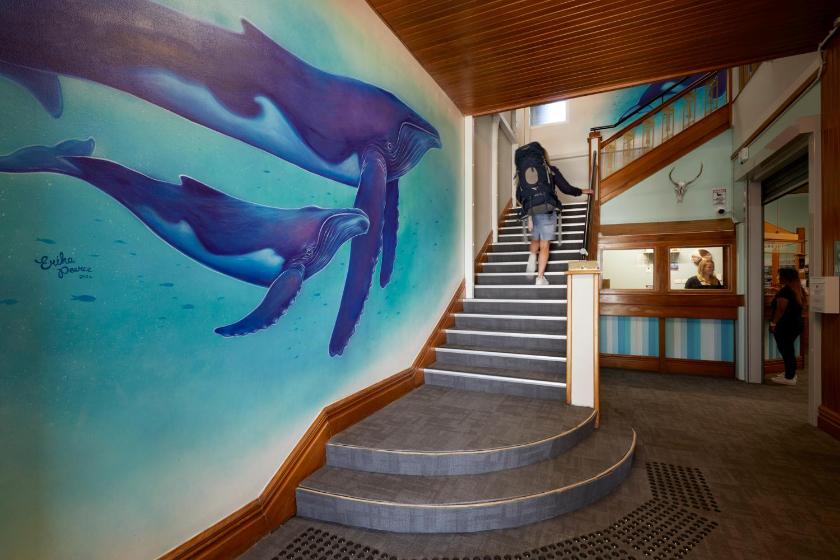 Accommodation in Tauranga can be cheaper, with a couple of solid backpacker options. Wanderlust Backpackers is our favourite one and is conveniently located in town.
This is your typical hostel with the usual rules, dorms and shared facilities. If you're after a basic room or a dorm bed, you can't go wrong.
Highlights:
Cheap & cheerful
Beautiful design, inside and out
Average Rating: 8.4
9. Trinity Wharf
Moving away from The Mount into Tauranga can provide you with access to some stunning 4+ star hotels at much more affordable prices. One such hotel is Trinity Wharf located in Tauranga.
With room prices ranging from $250 – $400, Trinity Wharf is great value offering picturesque sea views from many of the rooms, as well as a luxurious 4.5-star hotel experience.
Highlights:
Sea views from many rooms
Luxury room design and furnishings
Great value
Average Rating: 8.2
10. Clarence Boutique Accommodation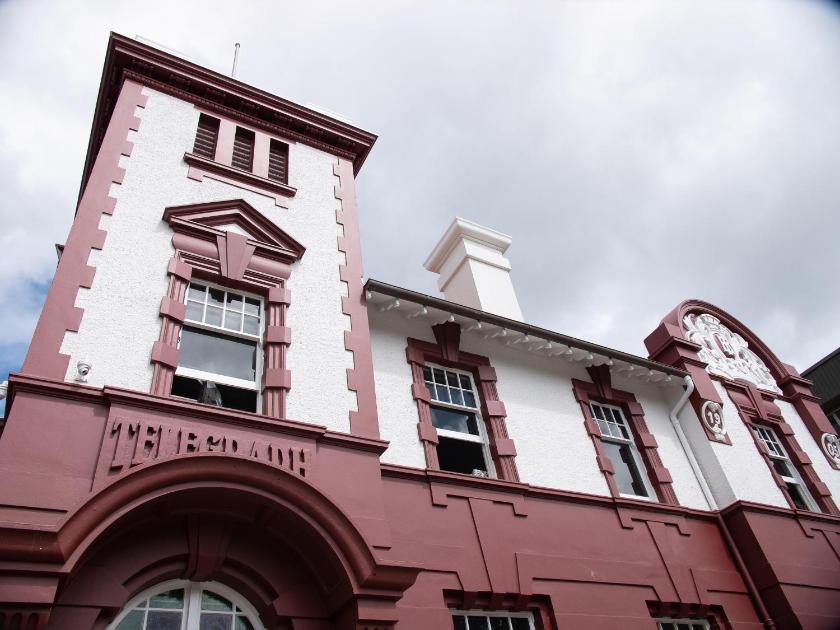 Clarence Boutique Accommodation in Tauranga is our favourite spot in town. Although our preference is to stay near Mount Maunganui, again, you can have the opportunity to stay in a luxurious, boutique hotel at a much lower price than an apartment or resort in Mount Maunganui would cost.
The fitout of the rooms here are gorgeous with bold colours in the rooms and elegant ensuites.
Just come prepared for a couple flights of stairs.
Highlights:
Great location for in heart of Tauranga
Unique, rustic and luxurious decor
Average Rating: 9.0
Mount Maunganui Camping
With multi-level hotels and resorts lining the beach, Mount Maunganui instantly feels like a Gold Coast-esque town designed for holidaying Aucklanders to escape to 5-star hotels.
Sure, it's great for this, but we love how space has still been made to accommodate for campers. As a result, we feel like Mount Maunganui is one of the best places to visit in New Zealand to go camping!
11. Mount Maunganui Beachside Holiday Park
Mount Maunganui Beachside Holiday Park is, confidently, the best campsite in The Mount. It's perfectly located right up by Mauao, near town and basically on the beach. It has all the facilities you could ask for as well, making things super easy.
12. Cosy Corner Holiday Park
Cosy Corner Holiday Park is another popular spot on the other end of Mount Maunganui. We love this spot as it's a bit cheaper, less crowded and in a much quieter location. Definitely one to consider if you don't want to camp right in the middle of town.
AirBnB Mount Maunganui
Mount Maunganui is a great place for booking an AirBnB. For most people, we recommend going with a hotel or resort – it's typically easier and the service is more convenient. On top of this, in Mount Maunganui, a lot of the best central locations are already taken up by hotels so the AirBnBs tend to be a little further away.
That said, for groups and families, AirBnBs tend to be a great, cost-friendly option that we'd recommend considering.
13. Seas the Day by Janet
One lovely place we stayed in Mount Maunganui was Seas the Day by Janet . It was a bit of a walk from town (as are most AirBnBs in Mount Maunganui) but the room was amazing and the feline hosts were super friendly.
Further Reading: Things to Do in Mount Maunganui